2020 British and Irish Indoor Tug of War Championships - 1 - 2 February 2020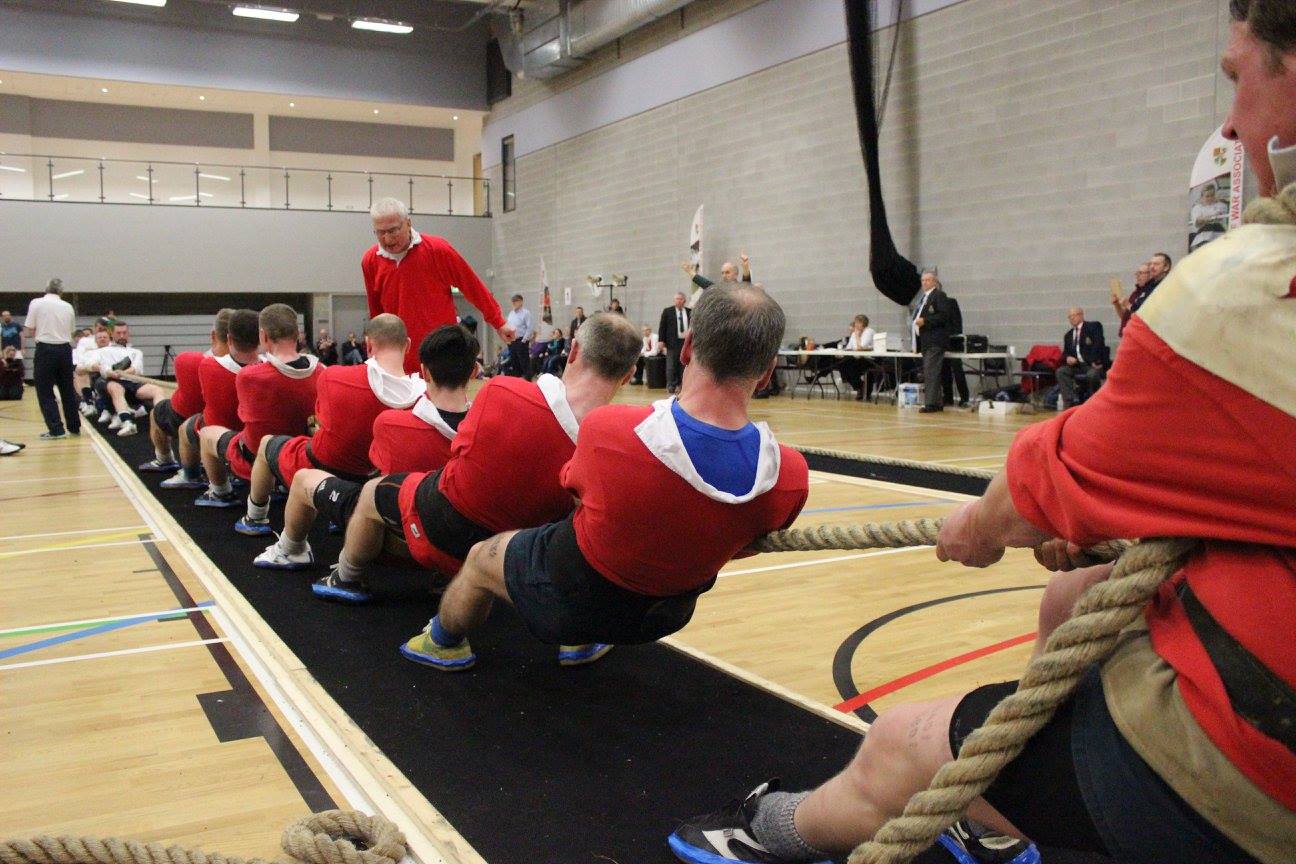 The Tug of War Association will be hosting the 2020 British and Irish Indoor Tug of War Championships on Saturday 1st and Sunday 2nd February with the weigh in taking place on Friday 31 January.
The event will be held at the Three Counties Showground, Malvern, Worcestershire, WR13 6NW.
The Three Counties Showground is a complex containing several large halls as well as outdoor facilities. The competitions will take place in the Avon Hall which is accessed via the blue gate off the B4209 Hanley Road. A map of the venue is provided below.
Please note that only liquid chalk will be allowed to be used at the venue. Tacky resin, dry resin power or chalk/magnesium powder will not be permitted.
As per recent British and Irish Championships, there will be a £20 accreditation fee payable by all pullers / coaches excluding junior pullers
Weigh In
The weigh in will be held on Friday 31st January between 16-00 & 20-00 hours in the Shaw Suite, Abbey Hotel, Malvern.
The Weigh in will be on individual Scales.
All clubs / nations attending the championships are asked to provide a list of pullers attending (to the best of their knowledge, and more rather than less) at least two weeks in advance to enable us to prepare the individual weigh in.
Programme
Friday 31st January Evening
B&I Commission Meeting
This will take place at 20.30hrs in the Shaw Suite, Abbey Hotel, Malvern.
Teams Briefing will follow the Commission Meeting in the Shaw Suite.
Saturday 1st February
Official opening and parade of teams - 09.30.hrs pulling will commence 10.00hrs.
Weights:
Men - 600 & 680 Kilos
Ladies - 500 & 540 Kilos
Mixed 4+4 - 580 Kilos
Junior Men - 560 Kilos
Junior Ladies - 520 Kilos
Junior Mixed - 560 Kilos
The presentation of medals will take place at the Championship Dinner, which will be held at Abbey Hotel, Malvern on the Saturday Night. Details of the Championship Dinner will be confirmed in due course.
Sunday 2nd February - Open Weights
Men - 560, 600, 640, 680
Ladies - 500 and 540
Senior Mixed - 580
Junior Men - 560
Junior Ladies - 520

As it is an open competition, teams may weigh in with 7 pullers in a weight class if they wish to do so, and in the mens weight classes, teams may weigh in with up to two female pullers if required.
Open Weights will be £25-00 per weight.

Accommodation
The main hotel that will be utilised for the championships for the weigh in, briefings and championships dinner will be the Abbey Hotel. Accommodation can be booked directly with the Abbey Hotel, Great Malvern, Worcestershire, WR14 3ET.
Contact details: telephone:

01684 892332 or email: abbey@sarova.com
Please quote Booking Reference: 'National Tug of War Association' when booking accommodation.
A package has been put together for double / Twin rooms & Single Rooms that can be booked for a 2 night stay for Bed, Breakfast and Evening Meal for a cost of £140-00 per person, Friday 31st January and Saturday 1st February. (Assuming Double / Twin rooms have dual occupancy). This will include the cost of the championships dinner on the Saturday evening.
There are some additional Rooms we can utilise as possible Family Rooms but these may require a supplement charge, (Executive Rooms and Club Rooms).
Sole occupancy of a Double Room would increase the cost to £170-00 for the 2 night stay.
If required Rooms can be booked for a single night but supplements will apply depending on the type of room being booked.
Rooms will be allocated on a first come basis.
Extra nights can be booked with the Hotel if required, (Thursday or Sunday), at a separate rate.
We have reserved all twin rooms at the hotel for competitors as well as double rooms, however the hotel will release all of these reserved rooms to the general public if they are not booked by 20th December (they will still be available to book after 20th December at the negotiated rate, however rooms cannot be guaranteed after this time). Teams are therefore advised to book their accommodation at the earliest opportunity.
The Saturday Evening Meal at the Abbey Hotel, Malvern will be the Championship Dinner.
Anybody not staying at the Abbey Hotel that wishes to attend the Championship Dinner will need to apply for Tickets from the TOWA Hon.Gen.Secretary. Cost will be £35 per person.
If you are staying outside of the Abbey Hotel and wish to attend the Championship Dinner then we will need prior notification. There is a limit on the numbers for the Championship Dinner and additionally the Hotel would need a minimum of two week's notice for non-residents attending the dinner so that appropriate catering and seating can be provided. Therefore, if you know you will be staying in alternative accommodation and wish to attend the dinner, then you need to advise us of your numbers no later than Friday 17 January 2020.
Other local hotels are listed below:
The Mount Pleasant Hotel

www.mountpleasanthotel.co.uk

50 Belle Vue Terrace, Great Malvern WR14 4PZ
Tel:

01684 561837
The Foley Arms Hotel
www.jdwetherspoon.com
14 Worcester Road, Malvern WR14 4QS
Tel:

01684 580350
Great Malvern Hotel

great-malvern-hotel.co.uk

Graham Road, Great Malvern WR14 2HN
Tel:

01684 563411
Cotford Hotel

cotfordhotel.co.uk

51 Graham Rd, Great Malvern WR14 2HU
Tel:

01684 572427
The Malvern Hills Hotel

malvernhillshotel.co.uk

Jubilee Drive, Wynds Point, Great Malvern WR13 6DW
Tel:

01684 540690
The Malvern Spa

www.themalvernspa.com

Grovewood Road, Malvern WR14 1GD
Tel: 01684 898290
Premier Inn

https://www.premierinn.com/gb/en/hotels/england/worcestershire/malvern/malvern.html?cid=YEXT_MALTOW
Townsend Way, Malvern WR14 1GD
Tel:

0871 527 9406
Enquiries
Please direct any enquiries to the TOWA Secretary by email or phone

01933 622639