Organise a Tug of War Event in 2020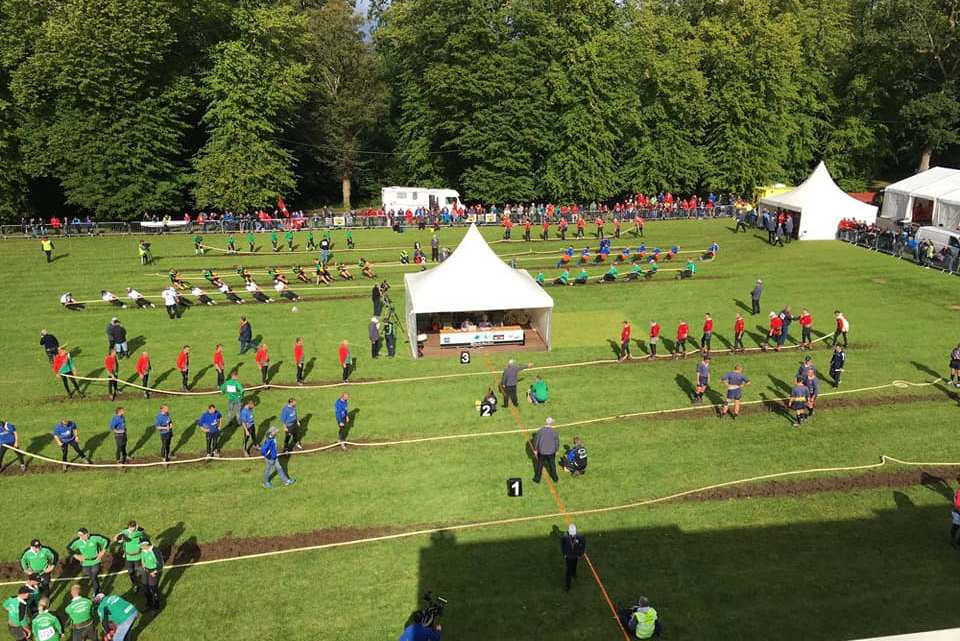 The Tug of War Association is now in the process of putting together the fixture list for 2020. We welcome tug of war events being staged by clubs, areas, country shows, etc. so if you have a venue in mind, now is the time to apply for a TOWA permit to host an event.
When applying to host an event, please let us know if your venue is available on more than one weekend, in the event that there are clashes with other events / championships or more than one organiser applies for a particular weekend. This will ensure that we can accommodate as many events as possible and allow a good spread of events around the country.
The TOWA also welcome clubs / organisers to apply to host the AAA Championships and Inter County Championships and National League Finals. If you wish to host any of these events, then please advise the TOWA Secretary when you submit your permit application forms. A vote will then be taken at the November TOWA Committee meeting to decide on the venues for these events.
Please note that no permits will be issued on the date of Saturday 20 June 2020 - that is the date of our national championships and no other events (including YFC and military) are to be staged on that day.
Requirements
Please note the following minimum requirements to host an event:
Arena
The arena should be a minimum of 60 metres in length by 20 metres in width. If you are expecting a large number of teams or are hosting an event with both mens and ladies teams, then space should be available to make the arena wider. The arena should be marked out with barriers to prevent crowds encroaching on the competition. Gaps in the arena boundary should be provided to allow teams to enter and leave before and after each pull.
Control
A tent / gazebo with tables and chairs should be provided for the timekeeper / recorders
Weigh In / Scales
Arrangements should be made for the weigh in to take place indoors and on a hard surface. Organisers should arrange for 8 man scales to be provided. If you do not have your own 8 man scales, some judges / area committees may have scales available which you can borrow / hire.
Judges and Recorders
It is the responsibility of event organisers to invite judges / recorders to your events. Please ensure that you send invitations to judges / recorders you wish to invite at the earliest opportunity which will give you a better chance of securing their services for your event.
Refreshments should be provided for judges and recorders. In addition, it is customary to present officials with a small gift or a contribution towards travel expenses as a thank you for their attendance at the end of the event.
Prizes
Winners and runners up prizes for each weight category should be provided for each puller and the coach. Entry fees can be charged per weight class to cover the cost of prizes.
Car Parking
Car parking should be available at the venue but should not be allowed adjacent to the arena to allow spectators to view the competition.

Toilet Facilities
Toilet and hand washing facilities should be available at the venue.

Refreshments
Organisers should arrange for catering to be available at the event so that competitors / spectators have the opportunity to purchase refreshments. If organisers arrange this themselves, it provides further opportunity to raise funds to cover the cost of organising an event.

Other fundraising
Organisers are permitted to secure sponsorship / advertising for their own events. Other fund raising activities, such as a raffle, stalls etc. are also permitted.
Advertising and Promoting your Event
All organisers are encouraged to promote their own events online, in local newspapers, banner advertising at the venue, and displaying posters, etc.
Early engagement with clubs is recommended in addition. Early advertising of an event, particularly on social media will help you attract more teams and spectators to your event and should not be left until the last minute.
Apply Now!
To apply for a TOWA Permit to host an event in 2020, please submit a permit application form to the TOWA Secretary by Monday 25 November 2019 as the fixture list will be discussed at the TOWA Committee Meeting on Saturday 30 November 2019.
The cost of a permit is £20. All events organised under a TOWA permit and run under TOWA rules with TOWA judges in attendance are covered by TOWA public liability insurance. Cheques for the permit application should be made payable to "The Tug of War Association".
Permit application forms are available to download below. Permit application forms can be sent to the TOWA Secretary by e-mail and post:
e-mail: mick.copper@tiscali.co.uk
Post: Mick Copper, 11 Holmfield Drive, Raunds, Northamptonshire, NN9 6PB
Provision of Contact Details
All TOWA fixtures (excluding YFC only and Military Only) are advertised in our annual handbook, are listed on our web site, and are publicised on social media (Facebook, Twitter and Instagram). Please note that we publicise contact details for each event in all of the above, so please provide a phone number and e-mail address so that clubs wishing to enter an event can contact event organisers for more information. In addition, please confirm that the person whose contact details are given consents to the publication of their contact details in our handbook, on our web site and on social media.
Download Permit Application Forms