20/06/2021 AAA Championships Results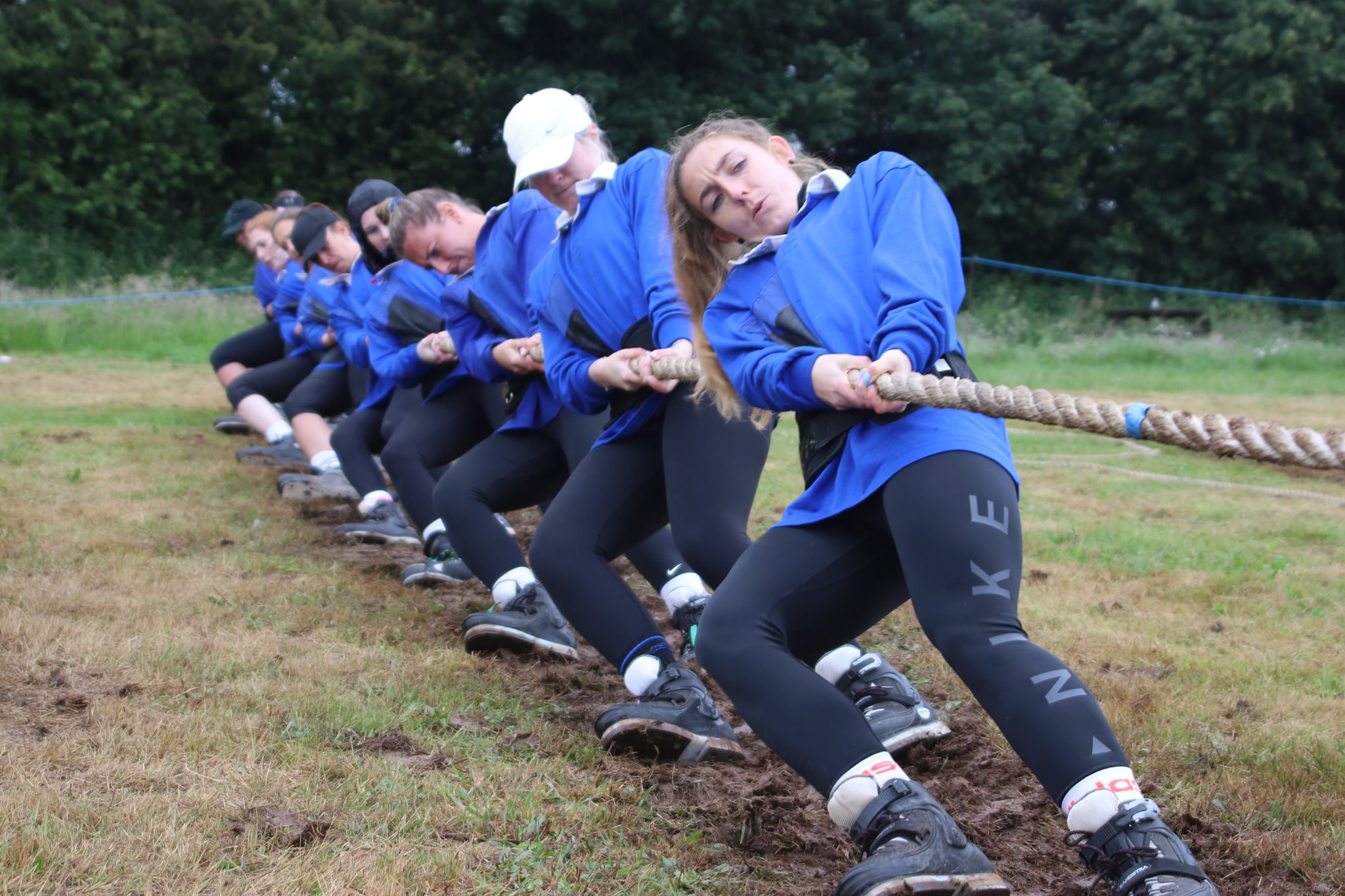 Week six of the revised tug of war season saw the first championship of the year, the AAA's men's catchweight and 640kg and the ladies 520kg competitions.
The weather could not have been more different from the week before, with grey cloud and persistent drizzle. However, that did not stop 14 clubs making their way to North Somerset and the home of Felton Eccles.
Photo: Bedford Ladies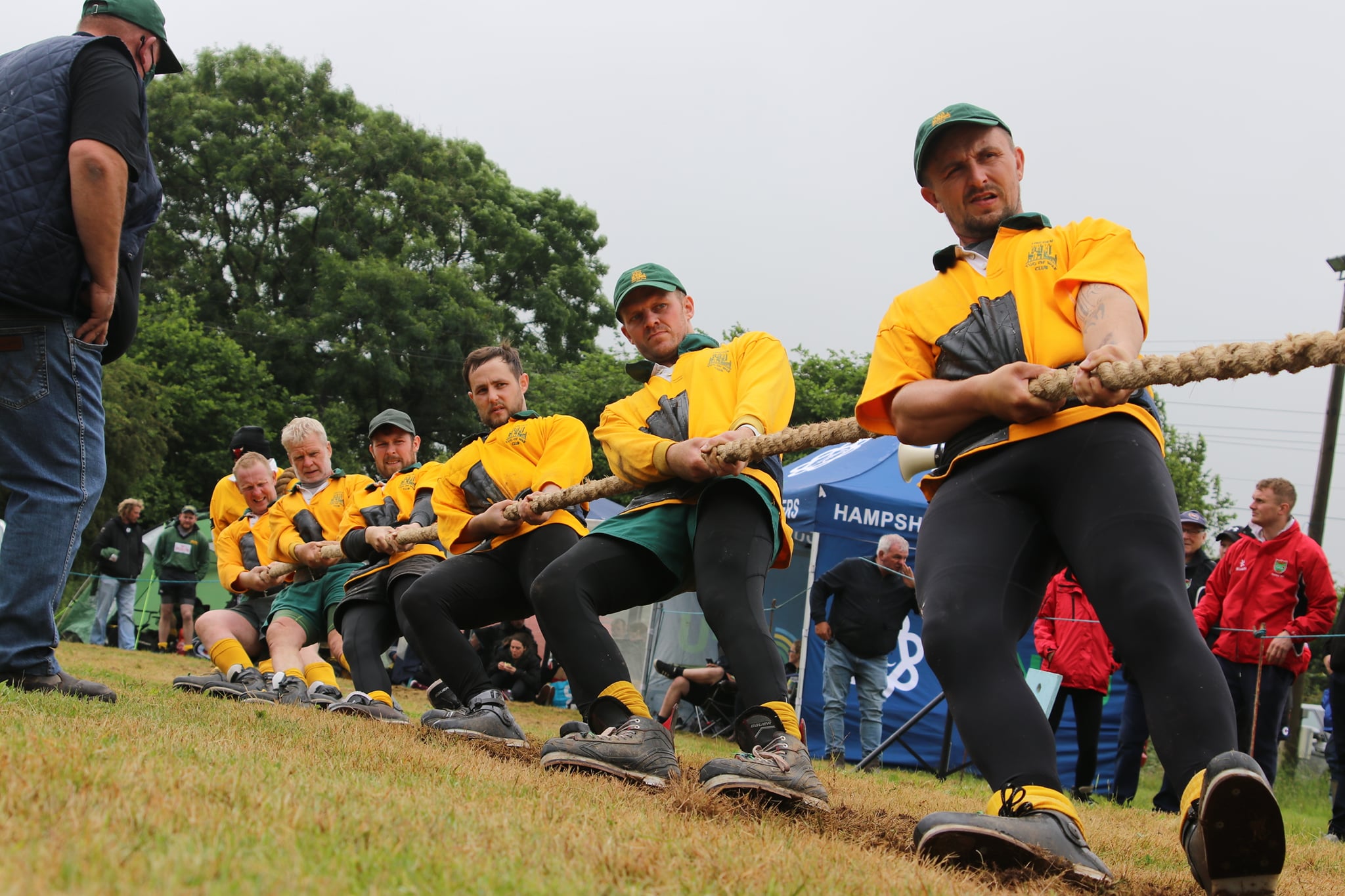 The first weight was the men's AAA's catchweight (closed). Lincoln, Felton and Essex were entered. Lincoln won the group with 6 points, followed by Felton who beat Essex into third spot. The final was between Lincoln and Felton which Lincoln won in fairly quick time two ends to nil to become AAA's Champions 2021 for the 7th consecutive year.
Photo: Lincoln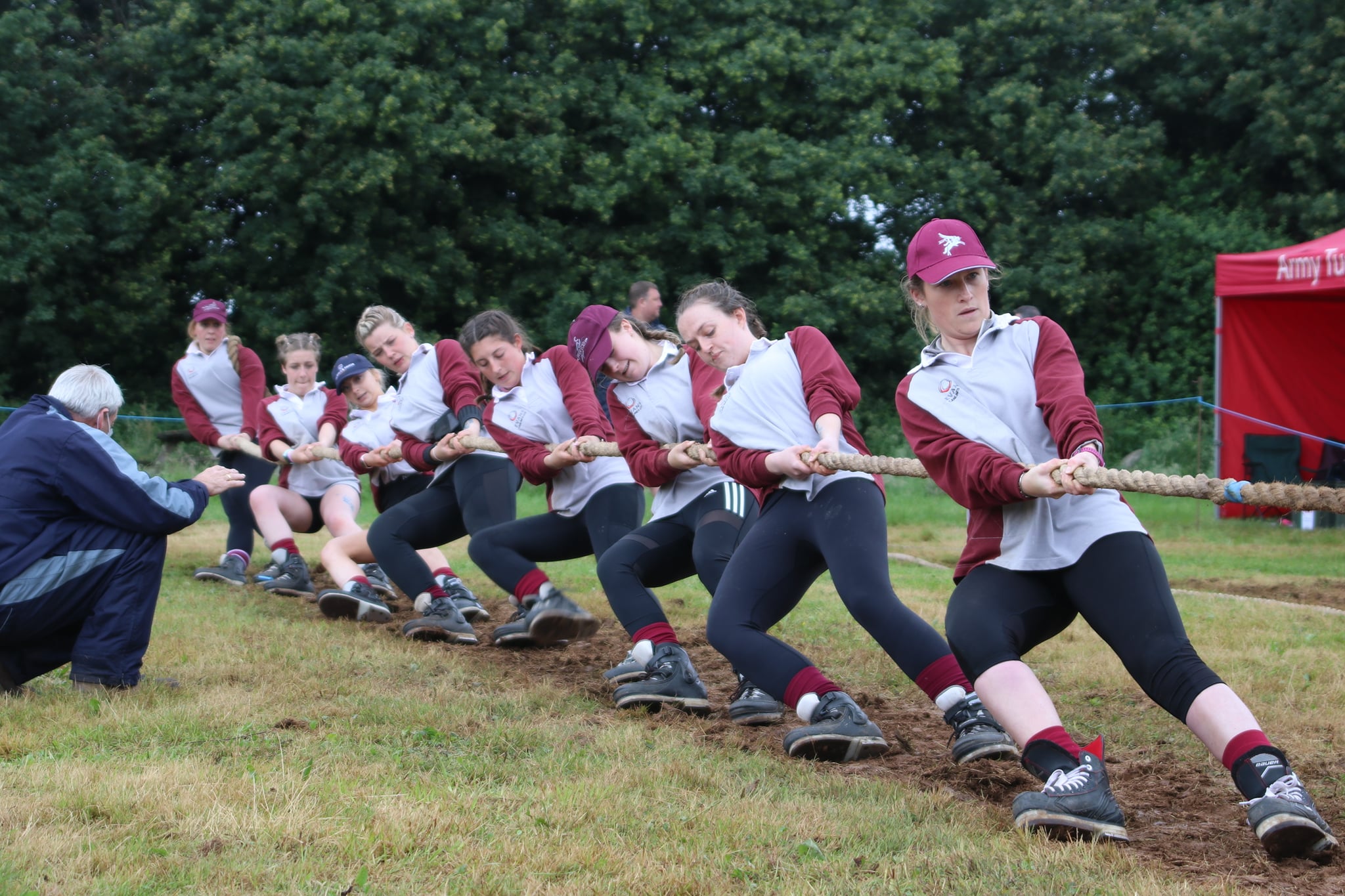 The Ladies AAA's 520kg (closed) also had three teams entered. Bedford Ladies, Upper Eden and Army Ladies battled through the group with Bedford coming out on top with maximum points followed by Upper Eden. The final between those two teams went to Bedford Ladies 2-0 AAA's champions 2021.
Photo: Upper Eden Ladies
Eight teams entered the AAA's 640kg (closed) weight. Lincoln, Oxney Vines Cross, Upper Eden, Brown Candover, Essex, Norton, Sandhurst and Army Men. This was pulled as one group on 4 ropes and at its conclusion the top 4 teams were Norton 21pts, Lincoln 16pts, Upper Eden 14pts and Oxney 13pts. Although Sandhurst finished 5th they had some hard pulling, 8 of their 14 ends lasted over 1 minute and three of those were over 2 minutes, a tough competition for the team. The semi-finals were Norton v Oxney and Lincoln v Upper Eden. Norton won their semi-final 2-0 in 1m.55s and 1m.0s and Lincoln went on to win theirs 2-0 in 1m.44s & 1m.30s. The final between two very experienced teams was set up between Norton and Lincoln and after 2 pulls Norton won in 1m.55s and 54s to retain the AAA's title for the 13th consecutive year.
Photo: Norton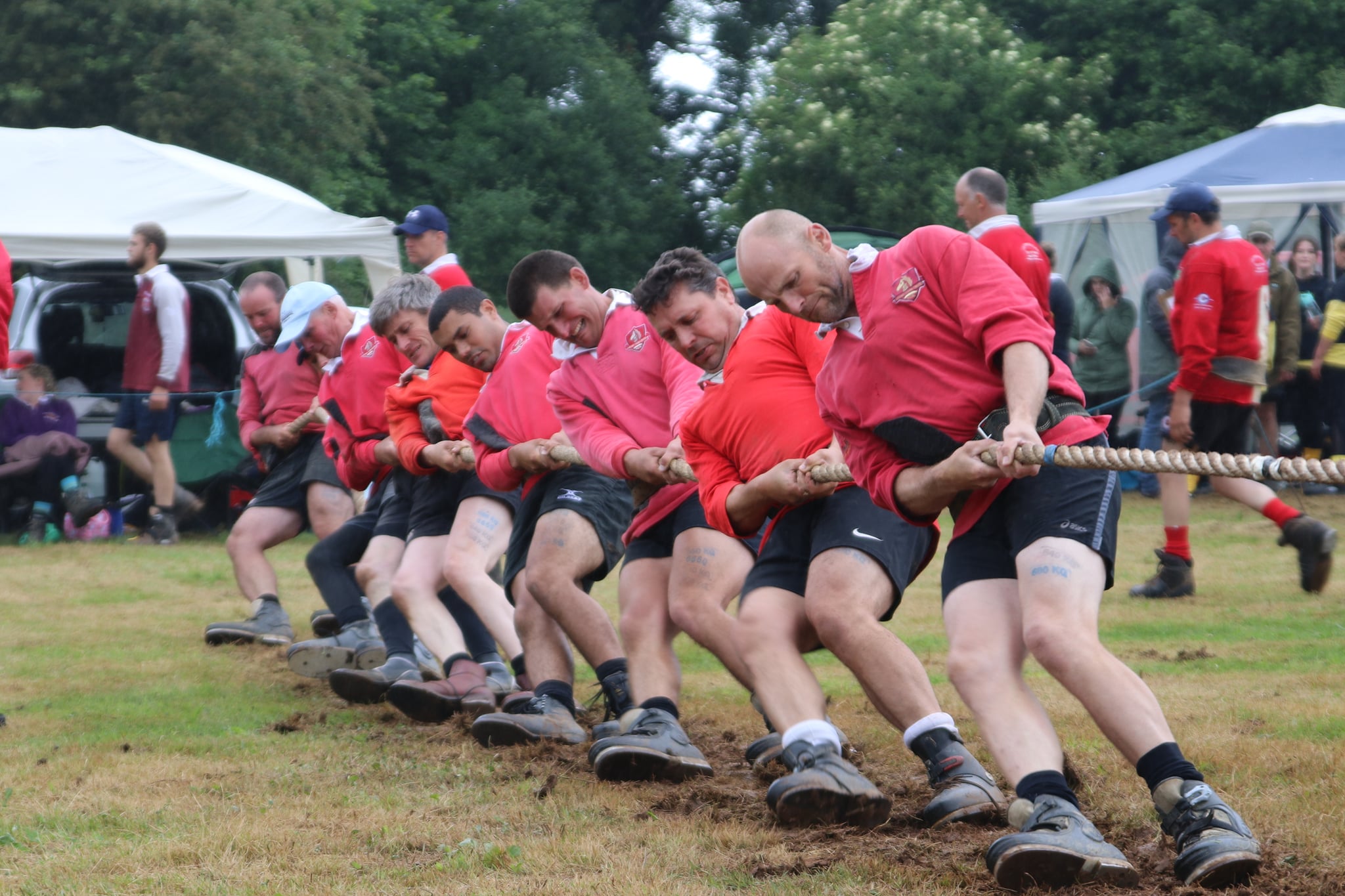 With the closed weight competitions concluded it was time for the open weight classes.
The 600kg had 9 teams split into two groups. (1) St. Enoder, Brown Candover, Bedford Ladies, Lincoln and Upper Eden, (2) Holland, Army, Felton and Oxney. In group 1 the first pull between two new teams to the Association, St. Enoder and Brown Candover went to Brown Candover 2-0 in 1m.3s and 1m.20s. The pull between Upper Eden and Lincoln was also a tough one with Upper Eden winning in 3m.17s and 1m.2s who eventually won their group. In group 2 the highlight pull was between the Army and local team Felton Eccles which Felton won in 32s and 1m.35s. Oxney comfortably won the group to go through to meet Upper Eden in the final. Upper Eden put up some resistance to Oxney however Oxney won in 1m.17s and 1m.6s.
Photo: Oxney Vines Cross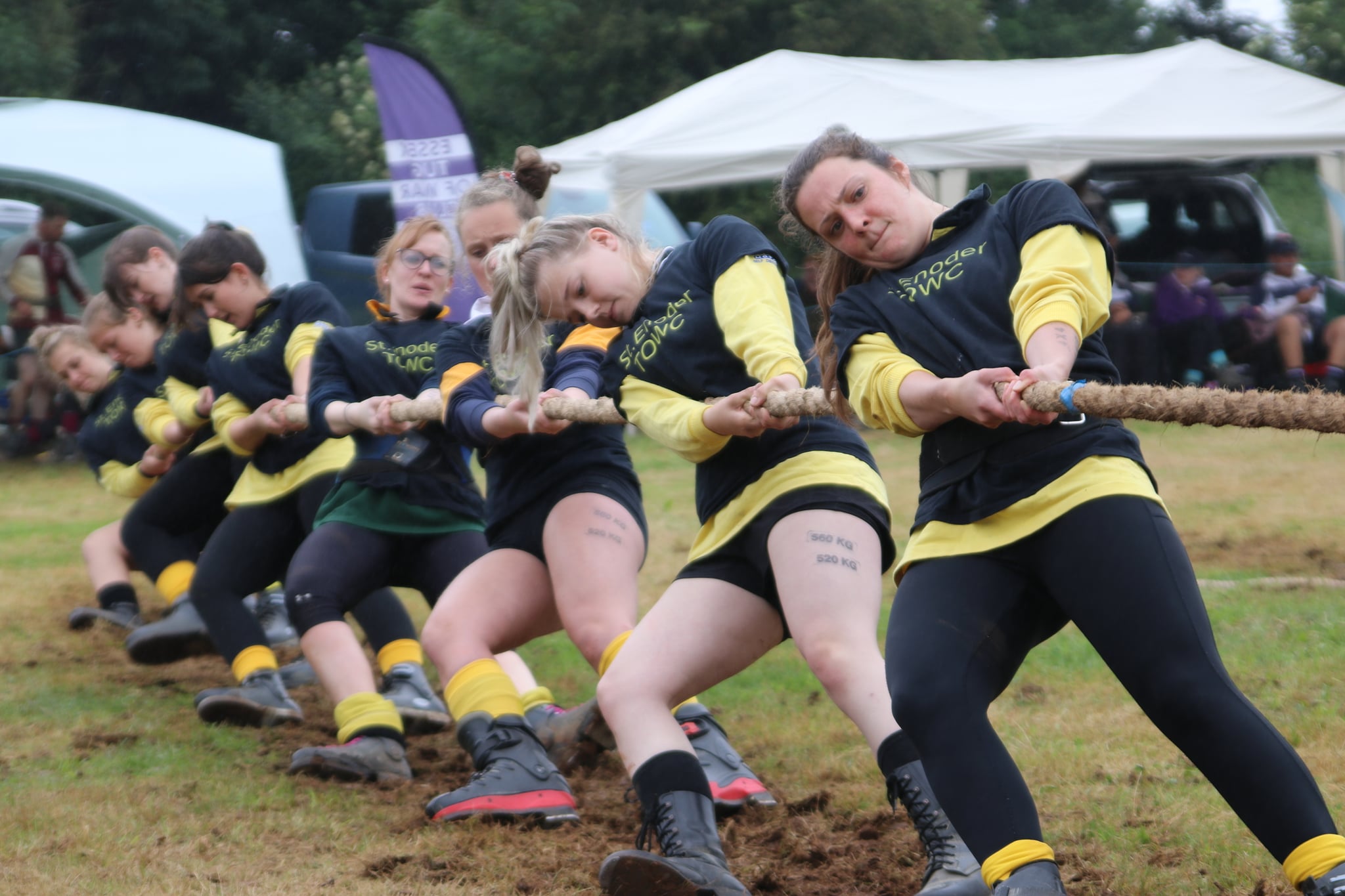 The ladies open 520kg had 6 entries, Bedford Ladies, Oxney, Upper Eden, St Enoder, Army Ladies and Upton on Severn. In the group, new team St. Enoder had a good pull against Upper Eden although Upper Eden won in 54s and 1m.42s. Another good pull was between Oxney and Army Ladies which went to Oxney in 1m.5s and 1m.32s. At the end of it all, Bedford Ladies won with maximum 15pts, 2nd was Upton on Severn with 12pts and Upper Eden 3rd with 7pts.
Photo: St Enoder Ladies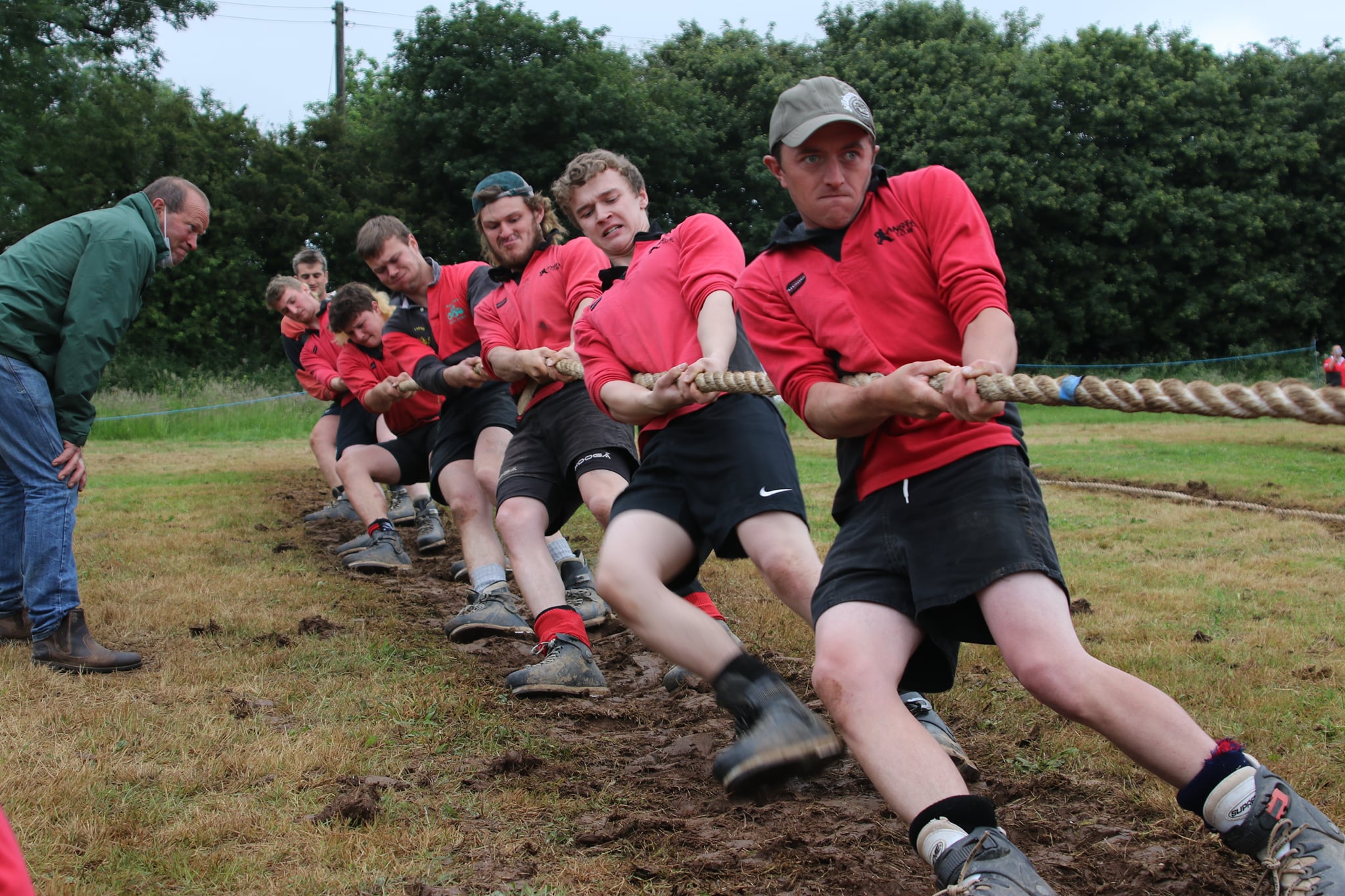 The open 680kg had two groups of 4. Group (1) Lincoln, Oxney, Brown Candover, Ansty and group (2) Holland, Essex, Sandhurst, Felton. The opening pull between Oxney and Lincoln went to Lincoln in 2m.17s and 2m.44s who continued with their winning run and topped the group with maximum points. Oxney finished second and Ansty 3rd followed by Brown Candover. In group (2) the highlight pull was between Sandhurst and Felton, after pulls of 3m.0s and 1m.36s Sandhurst won it. However, it wasn't enough to win the group which Essex did with 9pts. Sandhurst came 2nd with 6 pts and Felton 3rd followed by Holland. The final was between Lincoln and Essex and was won 2-0 by Lincoln in 2m.32s and 1m.38s.
Photo: Anstey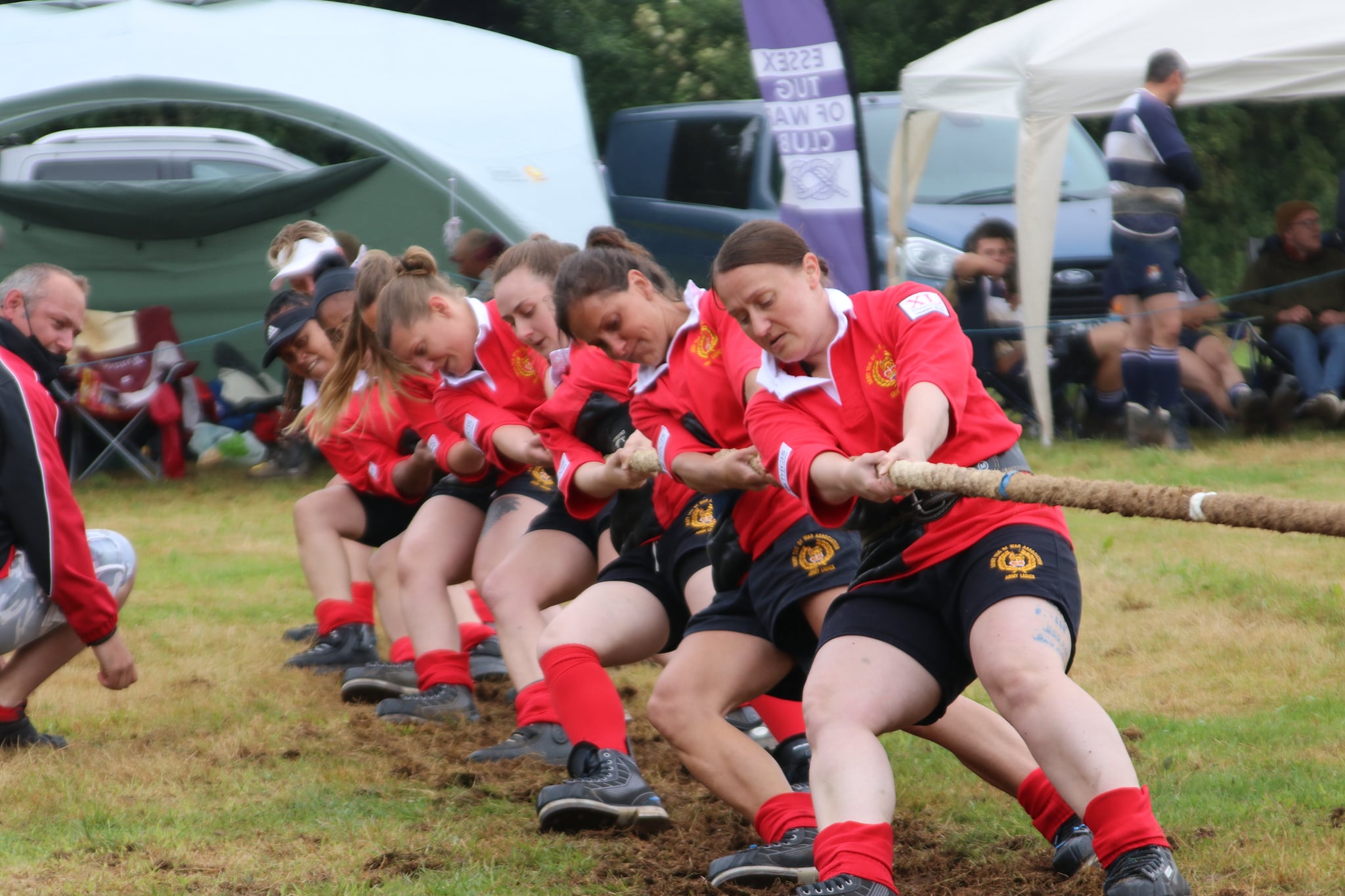 Five teams entered the ladies 560kg: Army Ladies, St. Enoder, Upper Eden, Bedford Ladies and Oxney. Bedford Ladies dominated this weight and got maximum 12pts. All the other teams finished on 3pts each which meant some working out had to be done to sort out the final placings. The Army Ladies and St. Enoder had both received cautions which left Upper Eden and Oxney caution free in the running for second place. Eventually it boiled down to weight and Oxney was the lighter team to claim 2nd place and Upper Eden 3rd. Team weight also decided 4th and 5th with Army Ladies being the lighter of the two to get 4th spot with St. Enoder having pulled very well in 5th place.
Photo: Army Ladies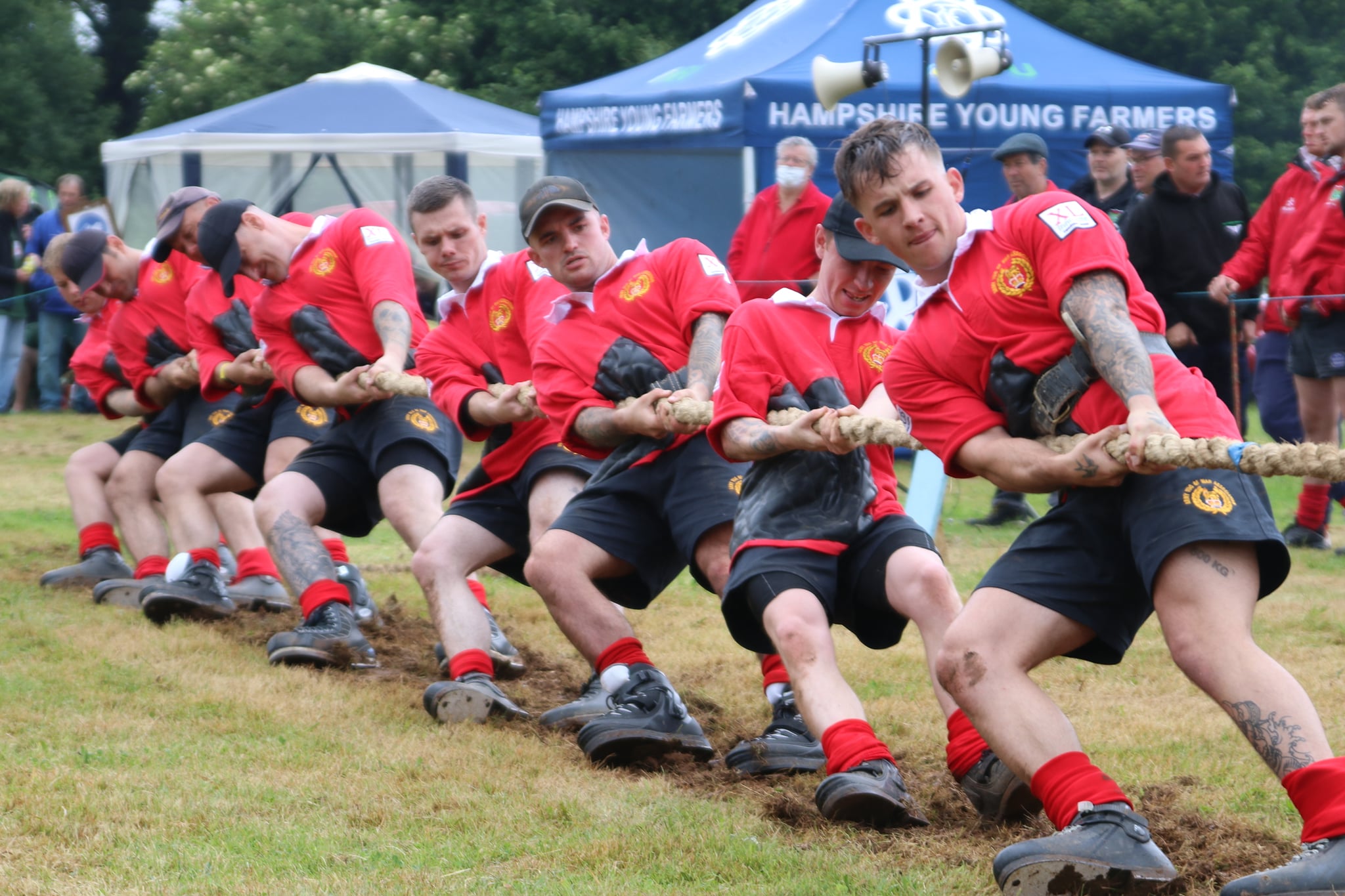 Eight teams weighed in for the men's open 640kg which were split into two groups. Group (1) Felton, Brown Candover, Ansty and Oxney. Group (2) Essex, Lincoln, Upper Eden and Sandhurst. The stand out pull in group (1) was between Felton and Ansty. The first end went to Felton in 59s but Ansty came out more determined for the second end and pushed Felton hard for 2m.36s after which Ansty received a third caution and was disqualified. The group winners were Oxney with 9pts with Felton 2nd with 6pts, Ansty 3rd followed by Brown Candover. Group (2) turned out to be the slightly tougher group. The pull between Sandhurst and Lincoln was the highlight. The first end was 3m.38s which Lincoln won on a disqualification; they also went on to win the second end in the quicker time of 1m.48s. Lincoln won the group with a maximum 9pts with Upper Eden 2nd, Essex 3rd then Sandhurst. The final between Oxney and Lincoln turned out to be the best pull of the day. The first end had both teams testing each other out with the rope going one way then the other. Eventually Lincoln got some momentum and managed to pull Oxney over the line after 5m.0s. The second end saw Oxney put Lincoln under pressure straight away to equal the score in 1m.7s. Lincoln won the toss for the third end and chose to change ends. Oxney put up some stubborn resistance but after 2m15s. Lincoln pulled them over the line to win 2-1.
Photo: Army Men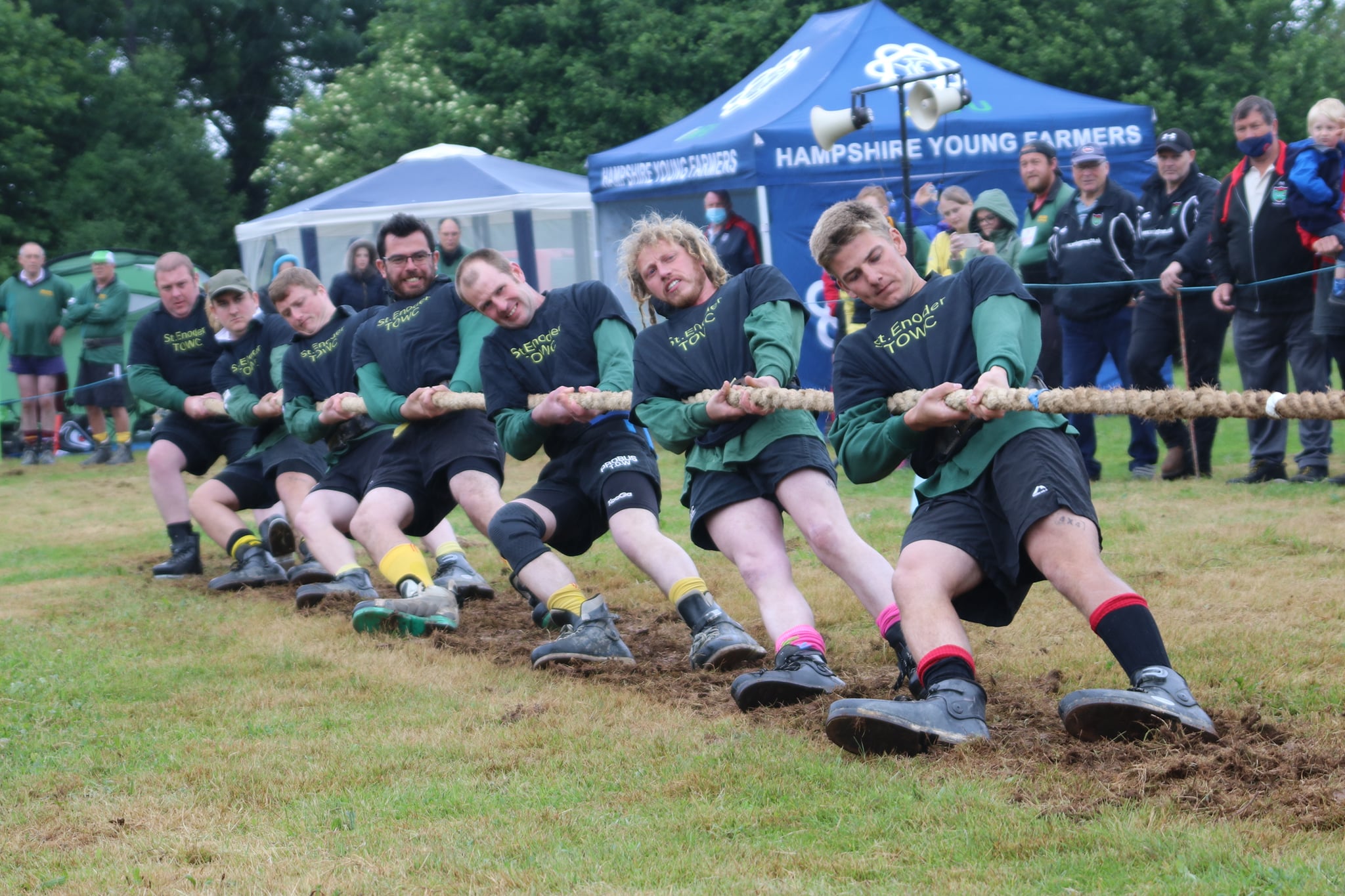 The final weight of the day was the mixed 580kg. The six teams entered were Upper Eden, St. Enoder, Upton on Severn, Sandhurst, Army A and Army B. This was a tough group with half of all the pulls in excess of 1 minute. Sandhurst and St. Enoder had the longest pull of 1m.53s. & 1m.51s. both ends going to Sandhurst. After all the pulling was done Upper Eden, who were the lightest team in the group, won with a maximum 15pts, Sandhurst 2nd with 12pts, St. Enoder 3rd with 9pts, 4th Army A 4pts, 5th Upton on Severn 3pts and Army B came 6th.
Photo: St Enoder Men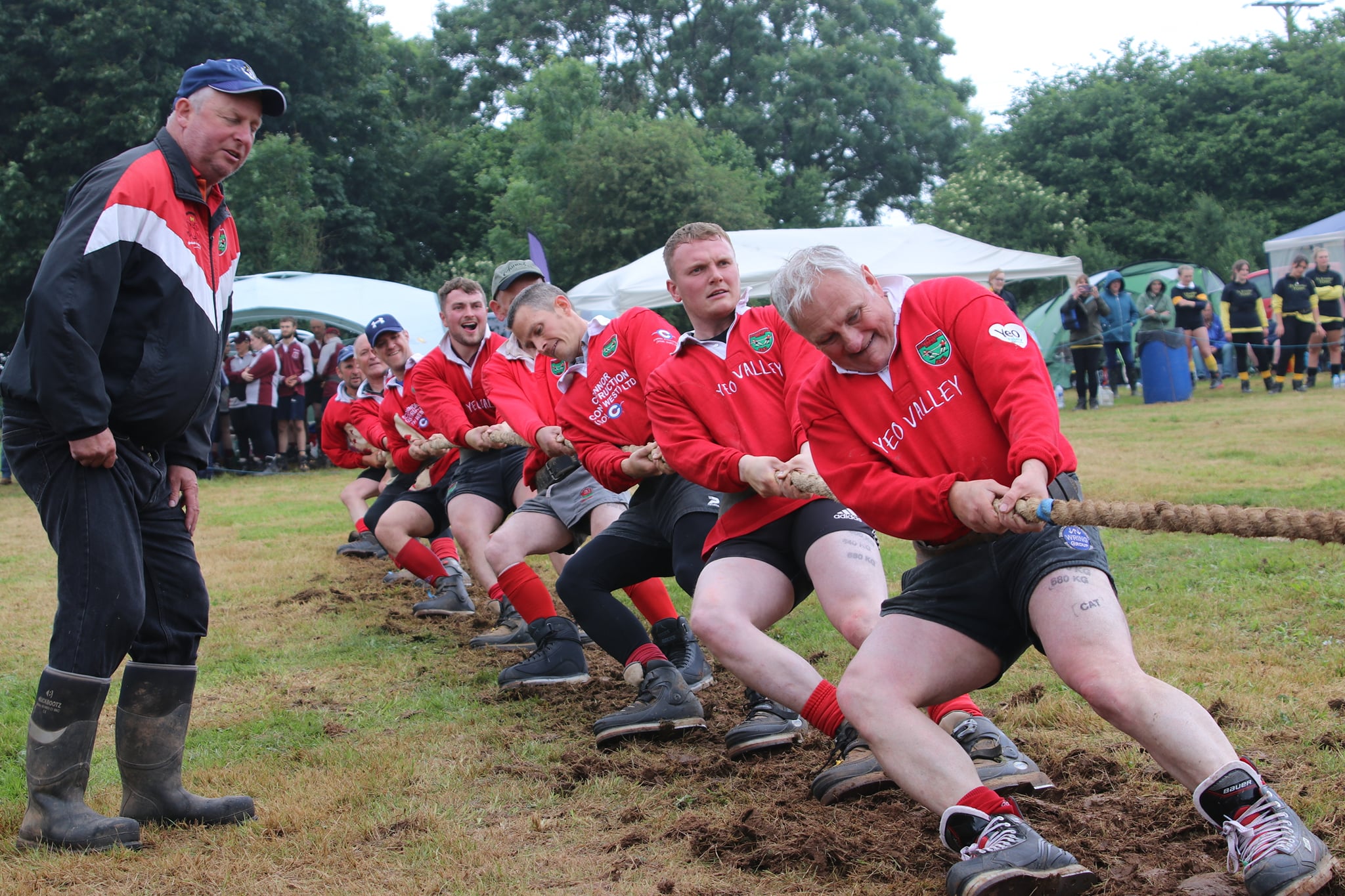 The officials for the day were; Timekeeper/Recorders - Wendy Dyer, Rachel Lewis, Mark Williams and Jane Major. Judges David Kitchener (Chief Judge AAA's), Nick Major (Chief Judge open), Mick Grimston, Pete Dyer, Mat Cowlard, Alec Masson and Gavin Corden.
Photo: Host Club Felton Eccles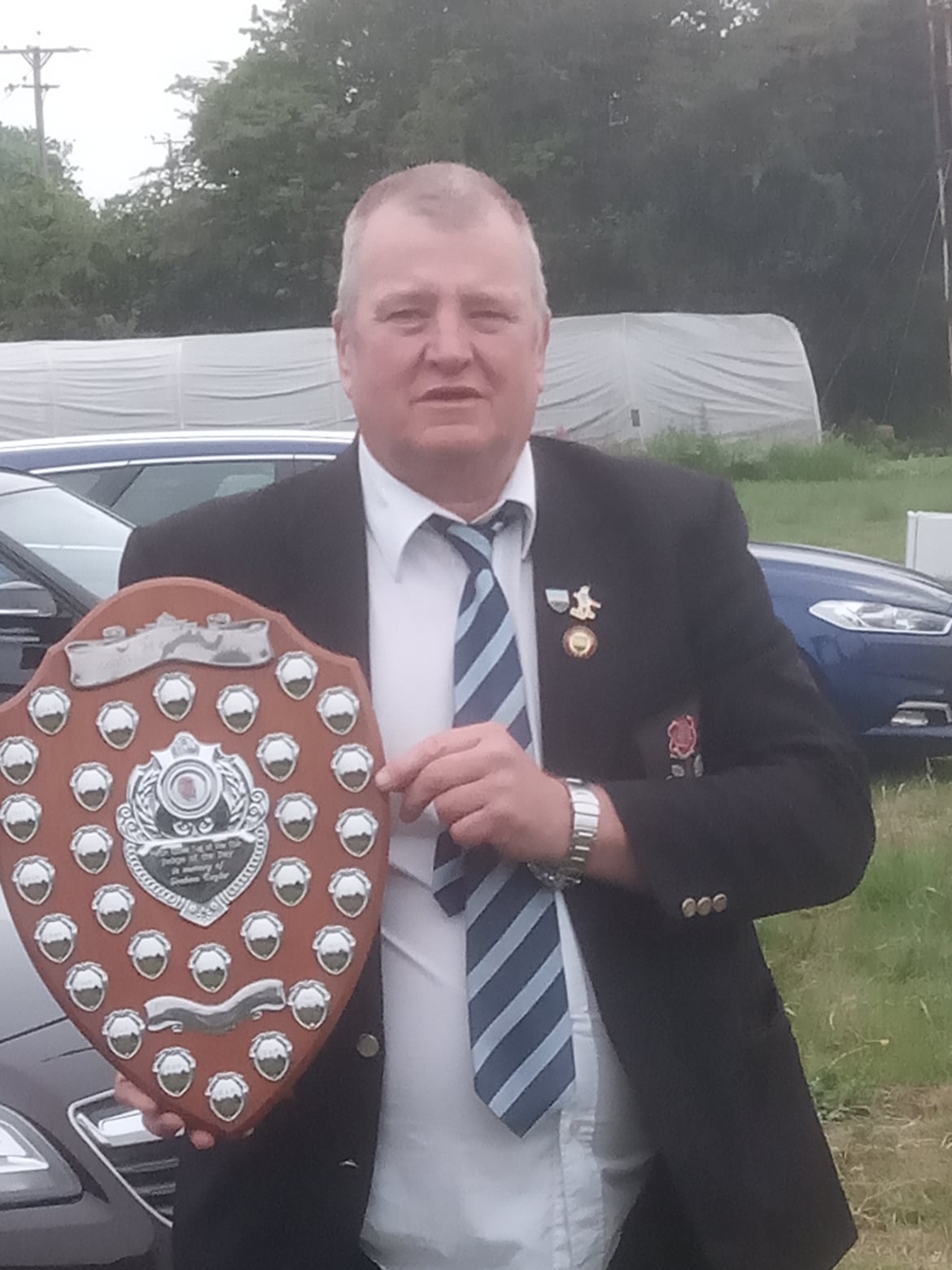 At the cup and medal presentation at the end of the day Felton Eccles TOW Club awarded the Graham Taylor memorial shield for the "Judge of the day". Graham sadly passed away a few years ago, and many will have known Graham as a puller with G&R in Cornwall. After Graham finished pulling, he took up judging, eventually becoming a Grade 1 Judge.
This shield was presented to Felton for their annual competition by Paul Taylor, Graham's brother who now pulls with Felton.
The shield this year was awarded to judge Nick Major.