2021 World Championships - Day 1 Round Up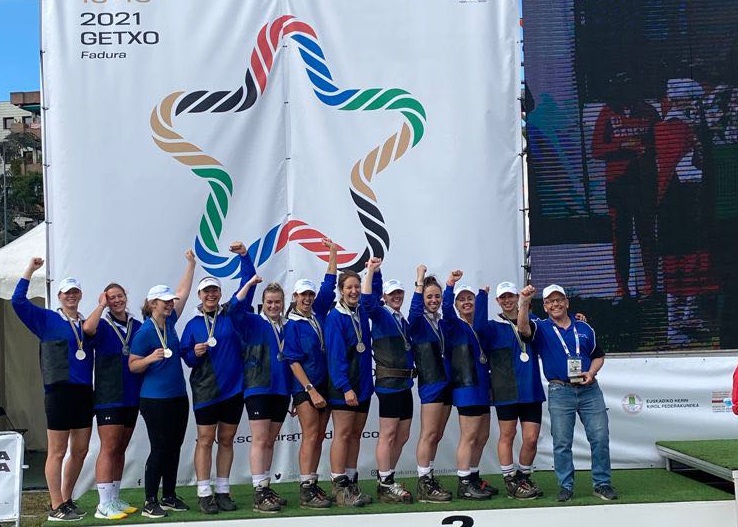 The first day of the postponed 2020 World Outdoor Tug of War Championships got under way today in Getxo in the Basque Country.
The weigh in took place on Wednesday and the first day of club competition got the action under way with the mixed 580kg, the mens 680kg, and the ladies 500kg.
England had no clubs taking part in the mixed 580kg competition, but had Oxney Vines Cross taking part in the mens 560kg and 680kg and Bedford Ladies took part in the ladies 500kg competition.
The mens 680kg and the mixed 580kg competition took place in the morning. Both weights were pulled in single large groups.
Oxney were under weight in the 680kg competition, but still competed well to finish in 8th position overall. The competition was won by Ebersecken from Switzerland, with Heure from Netherlands taking silver and Stans Oberdorf from Switzerland taking bronze.
In the mixed 580kg competition, Power Zell from Germany took gold, with Perugia from Italy taking silver and Vallietrekkers from the Netherlands taking bronze.
The mens 560kg competition was split into two groups, with Oxney taking part. The top two teams from each group would progress to the semi-finals. Oxney gave a number of younger pullers the opportunity to gain some experience and they competed well in the group, but missed out on a place in the semi finals. The gold medal was won by Gaztedi A from the Basque Country with Sins from Switzerland taking silver and Gaztedi B taking the bronze.
Success was to come in the afternoon however, with Bedford Ladies taking part in the ladies 500kg competition. Bedford won bronze in this weight class in the 2018 world club championships and were hoping to better that this time, and better it they did. The competition was pulled as a straight group, with the top four teams going through to the semi finals. In the semi final, Bedford Ladies met Sins from Switzerland, and whilst losing the third end, they battled away over the next end to level the match. There was no stopping Bedford on the third end and they reached their fist ever world final. In the final, Bedford met Gaztedi, but in the end, Gaztedi had a bit too much, and took both ends to win the gold medal, leaving Bedford Ladies with a still fantastic silver medal. Congratulations!
You can watch back over the action from the first day of competition below.