Sandhurst TOWC Open Competition Results 06 June 2021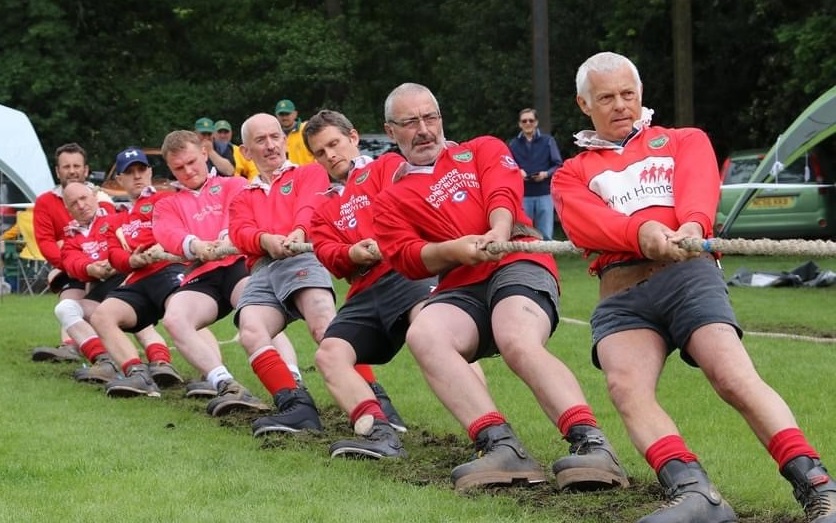 Sunday 6th June saw a sunny spectacular at the Memorial Ground for Sandhurst TOW club's annual open competition. The Arena was surrounded by 9 men's teams, 5 ladies teams, officials and supporters alike and it was great to see so many faces old and new as the atmosphere warmed up.
Photo: Felton Eccles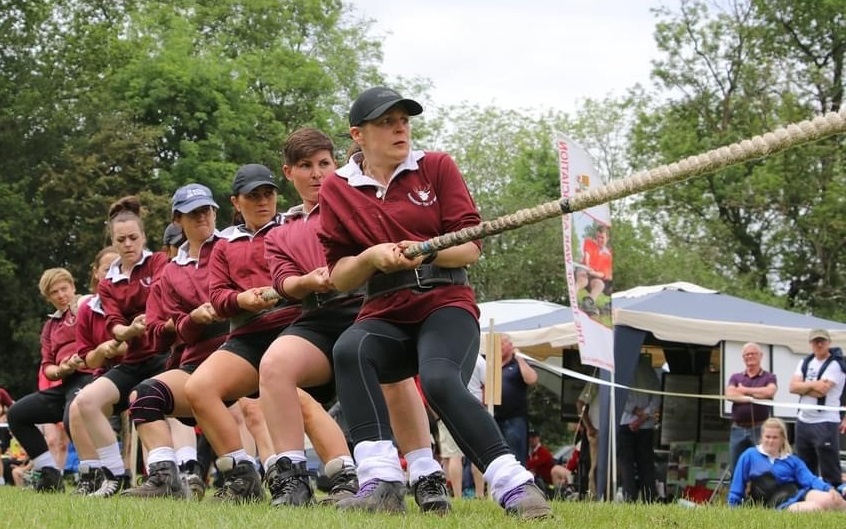 Men's teams in attendance (9) were Oxney Vines Cross, Sandhurst, Cupids Hill (Wales), Lincoln, Essex, Felton Eccles, Brown Candover, Norton, Bedfordshire.
Ladies teams in attendance (5) were Bedford Ladies, Army Ladies, Bedfordshire, Oxney Vines Cross, Sandhurst.
Photo: Sandhurst Ladies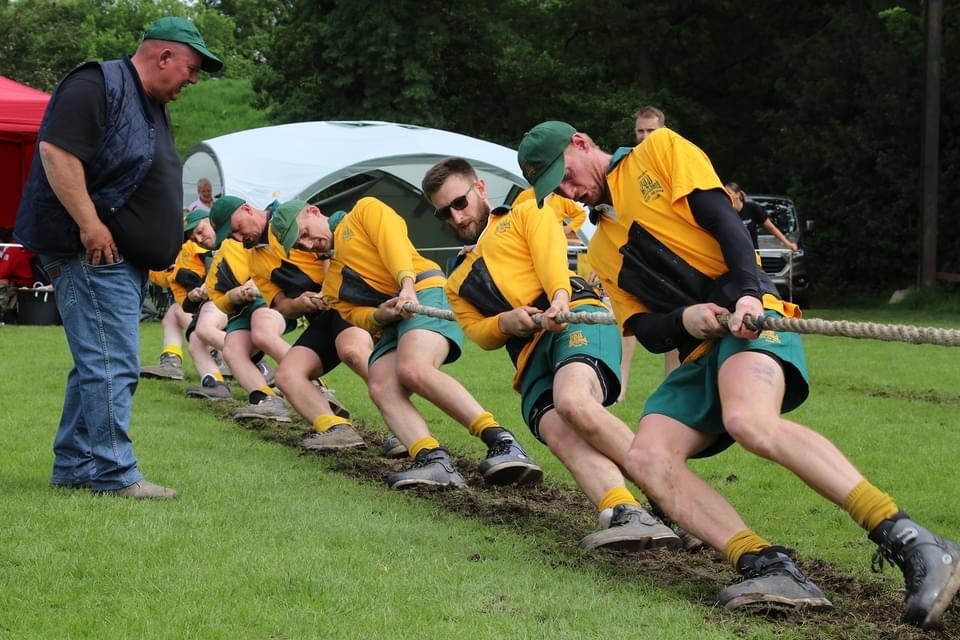 The day got underway with the Catch weight, which included Bedfordshire, Essex, Felton, Lincoln, Oxney Vines Cross and Sandhurst. Each team took to the arena that had been well prepared and organised under the clear directions of the Judges and officials. Essex pulled well winning their ends until they came up against Lincoln who just dominated the class in every way taking every end and notching up the maximum 15 points and the first gold medal of the day.
Photo: Lincoln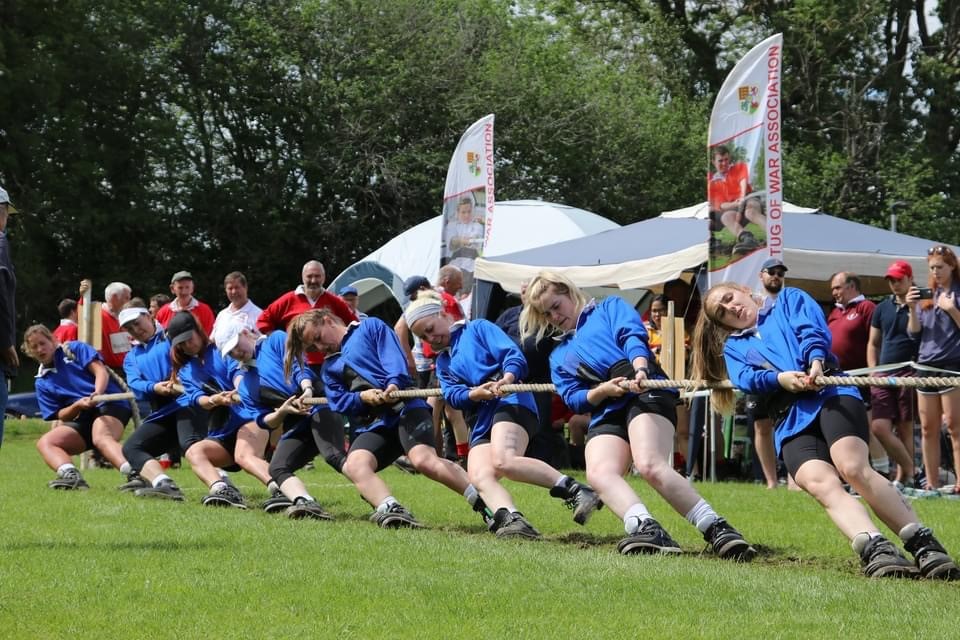 Alternating after each round of Catch weight pulls the ladies took to the field meaning there was little rest time as the pulling proceeded at a steady rate all day. First up for the ladies was the 560kg and up to the ropes were Army Ladies, Bedford Ladies, Bedfordshire, Oxney Vines Cross Ladies and Sandhurst. This was the first time Sandhurst has ever fielded a ladies team and they did well to slow up a strong Bedfordshire and the experience of Army Ladies who took third place and 6 points. The battle came between Oxney Vines Cross ladies who did very well to take 2nd place but couldn't do enough as Bedford ladies dominated the 560kg winning every end and picking up full points and gold in the 560kg.
Photo: Bedford Ladies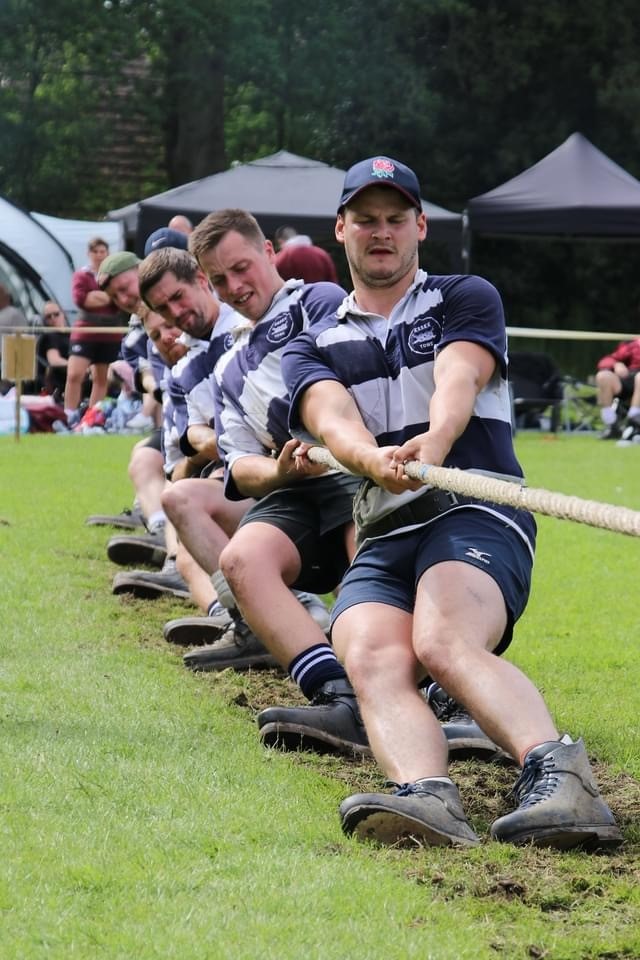 Next up was the Men's 600kg and with 9 teams this time it was pulled at a fast pace of two groups.
Group one was: Oxney Vines Cross, Norton, Lincoln, Bedford Ladies and Brown Candover and Group two included: Cupids hill, Bedfordshire, Felton Eccles and Sandhurst
Photo: Essex TOWC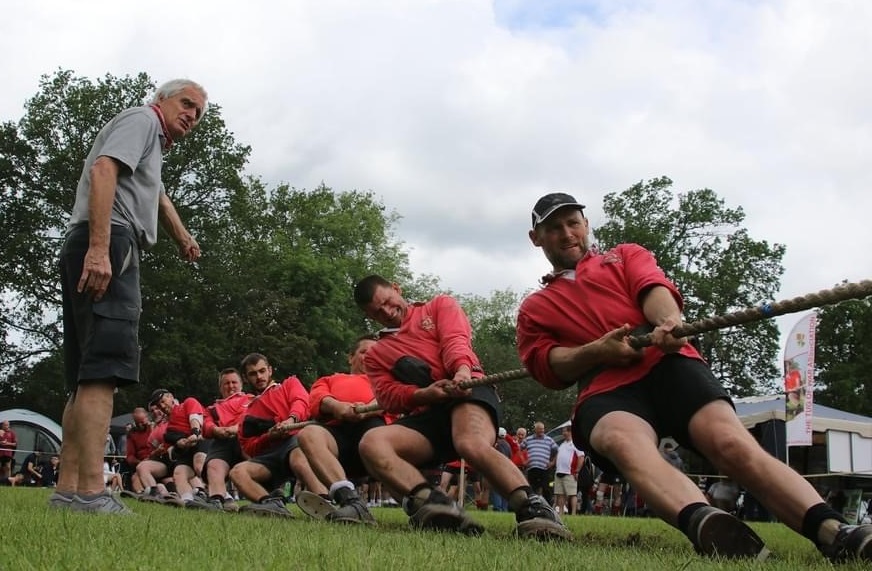 Oxney Vines Cross dominated group one, winning all ends as Norton took second place over Lincoln which included the longest pull of the group between Norton and Lincoln. 4m.06s & 1m.54s with both ends taken by Norton.
In group two, Cupids Hill took the top spot after winning all their ends finishing above Bedfordshire and Felton.
Oxney sealed the gold by beating Cupids hill 2-0 in the final.
Photo: Oxney Vines Cross Men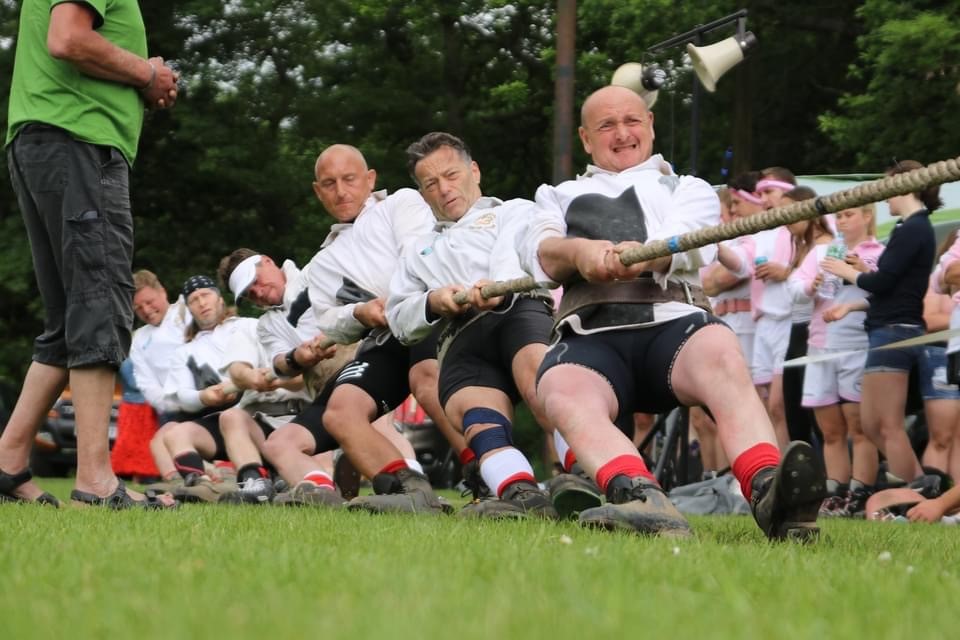 After the first round of pulling in the 680kg and a slight slip up regarding the teams entered, the class ended up being pulled as 8 straight teams making it one of the longest to get though in the high heat of the day. Taking to the rope was Bedfordshire, Brown Candover, Essex, Felton Eccles, Lincoln, Norton, Oxney Vines Cross and Sandhurst. Most teams took ends and points from one another, as Oxney Vines Cross finished third in the group with 13 points behind Lincoln who came second with 16 points. But there was no stopping Norton in the 680kg as they took every end, maximum points on offer and the gold.
Photo: Norton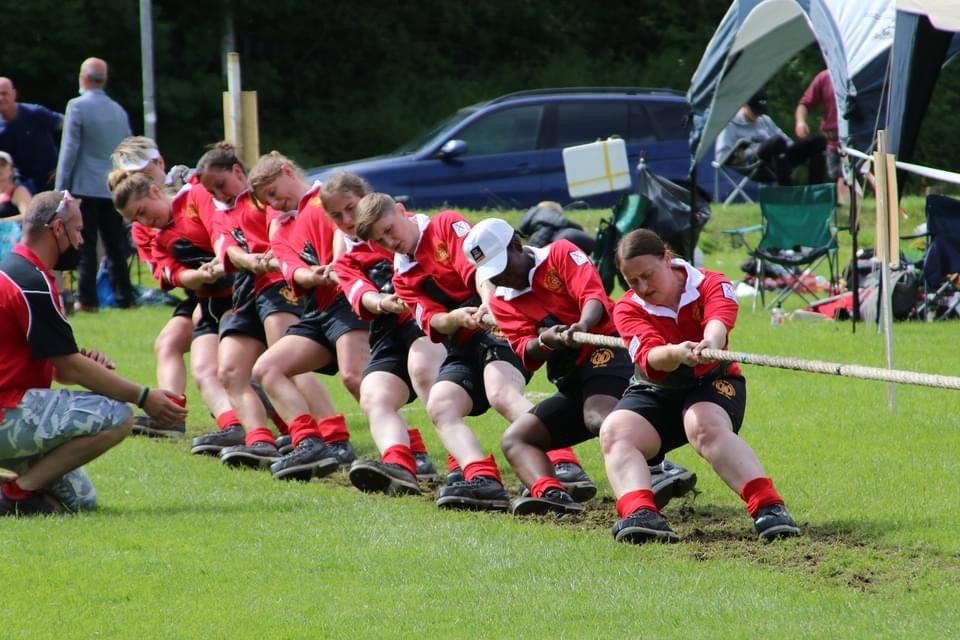 Alongside each round of 680kg men's pulling the ladies 540kg got underway with Army Ladies, Bedford Ladies, Oxney Vines Cross Ladies and Sandhurst. Oxney Vines Cross and Army Ladies took both ends from Sandhurst, but battled it out against one another taking an end each and both finishing on 4 points. While Bedford Ladies again put in some great pulling, wining all their ends again and their second gold of the day.
Photo: Army Ladies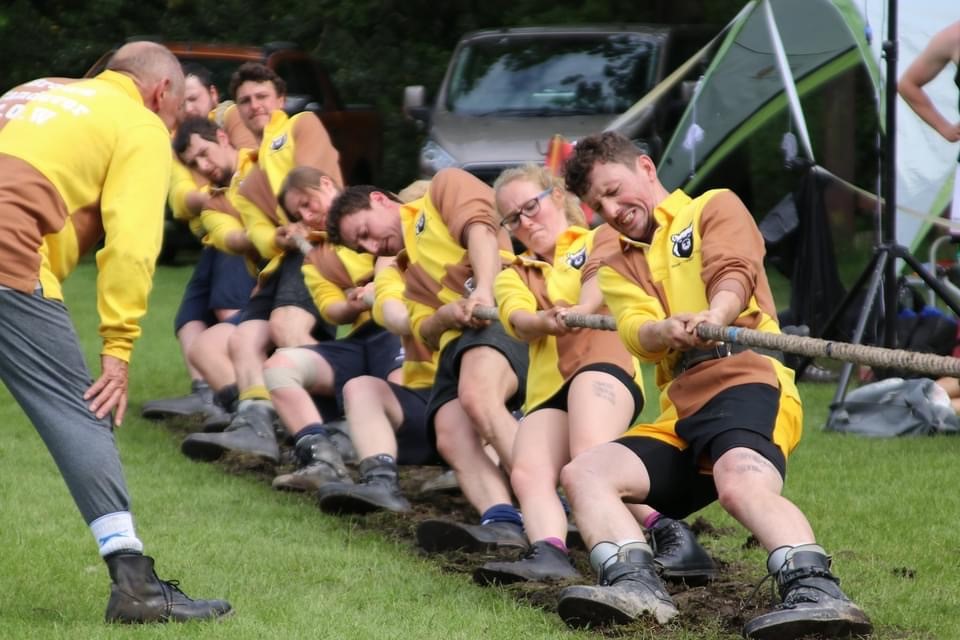 The final men's weight for the men, the 640kg alternated with the ladies final weight of the 520kg.
In the men's, 7 teams took up position. Brown Candover did what they could but couldn't hold on to any of the other teams. Essex, Felton Eccles, Sandhurst and Cupids Hill all won ends and clocked up points, but the battle of the 640kg was to be fought out between Lincoln and Oxney Vines Cross who had so far beaten all other teams in the group. Oxney Vines Cross then recorded the longest end of class at 4m 22s to take the first end from Lincoln, but Lincoln then smashed the second end in just 20 seconds to make it one end each. Despite both teams jointly topping the table with 16 points, Oxney took first place and gold thanks to picking up fewer cautions.
Photo: Brown Candover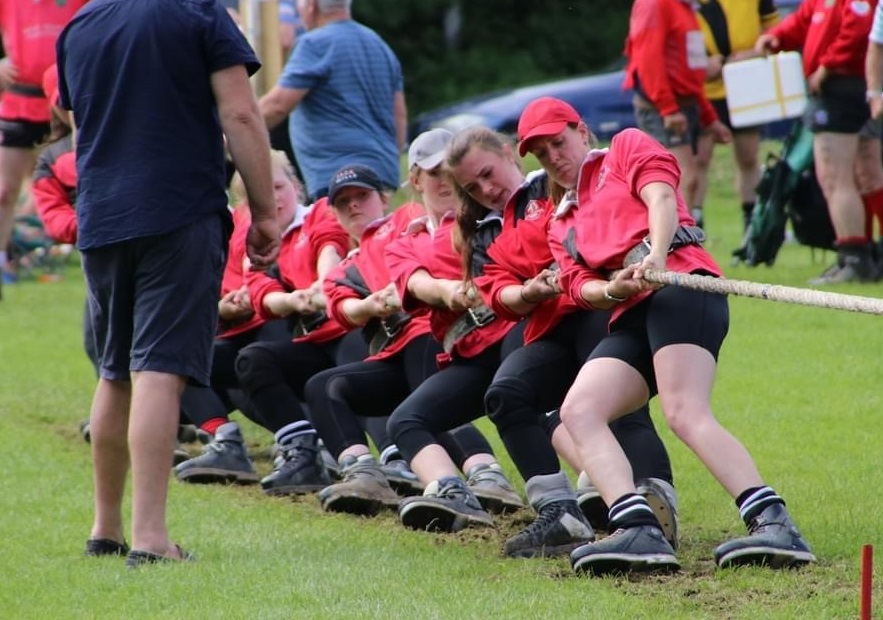 In the meantime, the ladies 520kg was once again dominated by Bedford ladies who racked up another 9 points and gold over Oxney Vines Cross ladies who held on to second place by beating both other teams of Bedfordshire and Army Ladies.
Photo: Oxney Vines Cross Ladies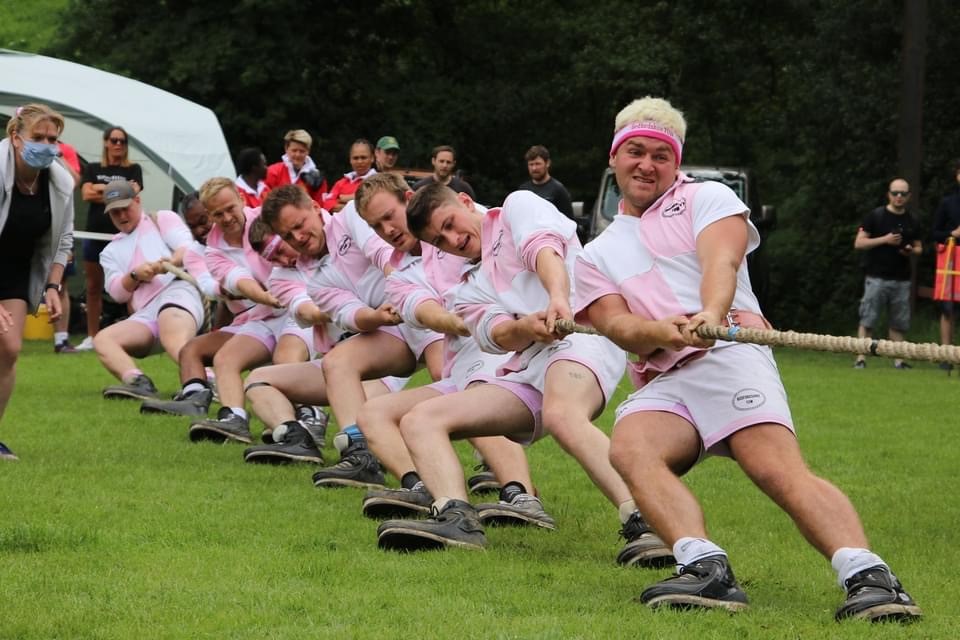 The very final weight for all was the 4x4 mixed 600kg. As the sun cooled and teams packed away after a very long day, Bedfordshire A & B, Brown Candovur, Essex and Sandhurst pushed on with tired legs to finish off what had become a brilliant day. Essex pulled well taking 3rd place and 10pts while Sandhurst took all ends from Brown Candover, Essex and Bedfordshire B to set up effectively a final against Bedfordshire A. Despite Bedfordshire A having lost an end to Essex previously, Sandhurst couldn't stop Bedfordshire A from just pushing past the post and winning both ends and taking home the final gold of the competition.
Photo: Bedfordshire Men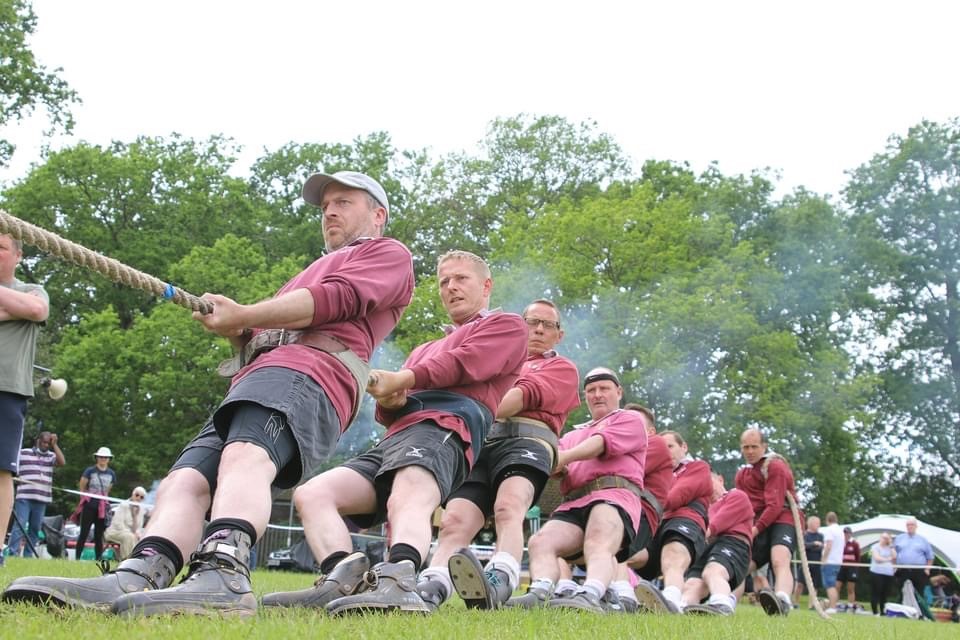 A huge thank you to all the teams that attended, the helpers and volunteers for their hard work and to Sandhurst TOWC for putting on such a great competition, but also to the judges and officials for managing a speedy and smooth pulling day for all.
Photo: Sandhurst Men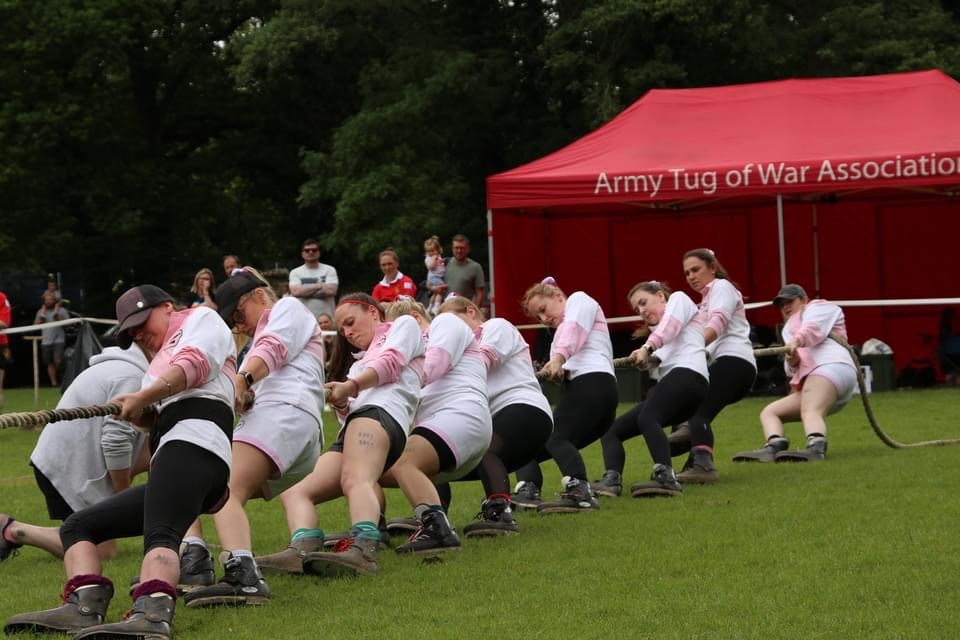 Photo: Bedfordshire Ladies
Results Summary
Men Catchweight - Winners - Lincoln - Runners Up - Essex
Men 680 - Winners - Norton - Runners Up - Lincoln
Men 640 - Winners - Oxney Vines Cross - Runners Up - Lincoln
Men 600 - Wwinners - Oxney Vines Cross - Runners Up - Cupids Hill
Ladies 560 - Winners - Bedford Ladies - Runners Up - Oxney Vines Cross Ladies
Ladies 540 - Winners - Bedford Ladies - Runners Up - Army Ladies
Ladies 520 - Winners - Bedford Ladies - Runners Up - Oxney Vines Cross Ladies
Mixed 600 - Winners - Bedfordshire A - Runners Up - Sandhurst
Photo: Cupids Hill
Report from Katie Plumley of Sandhurst TOWC
Photos courtesy of Jamie Dewsberry