2023 AAA Indoor Championships Results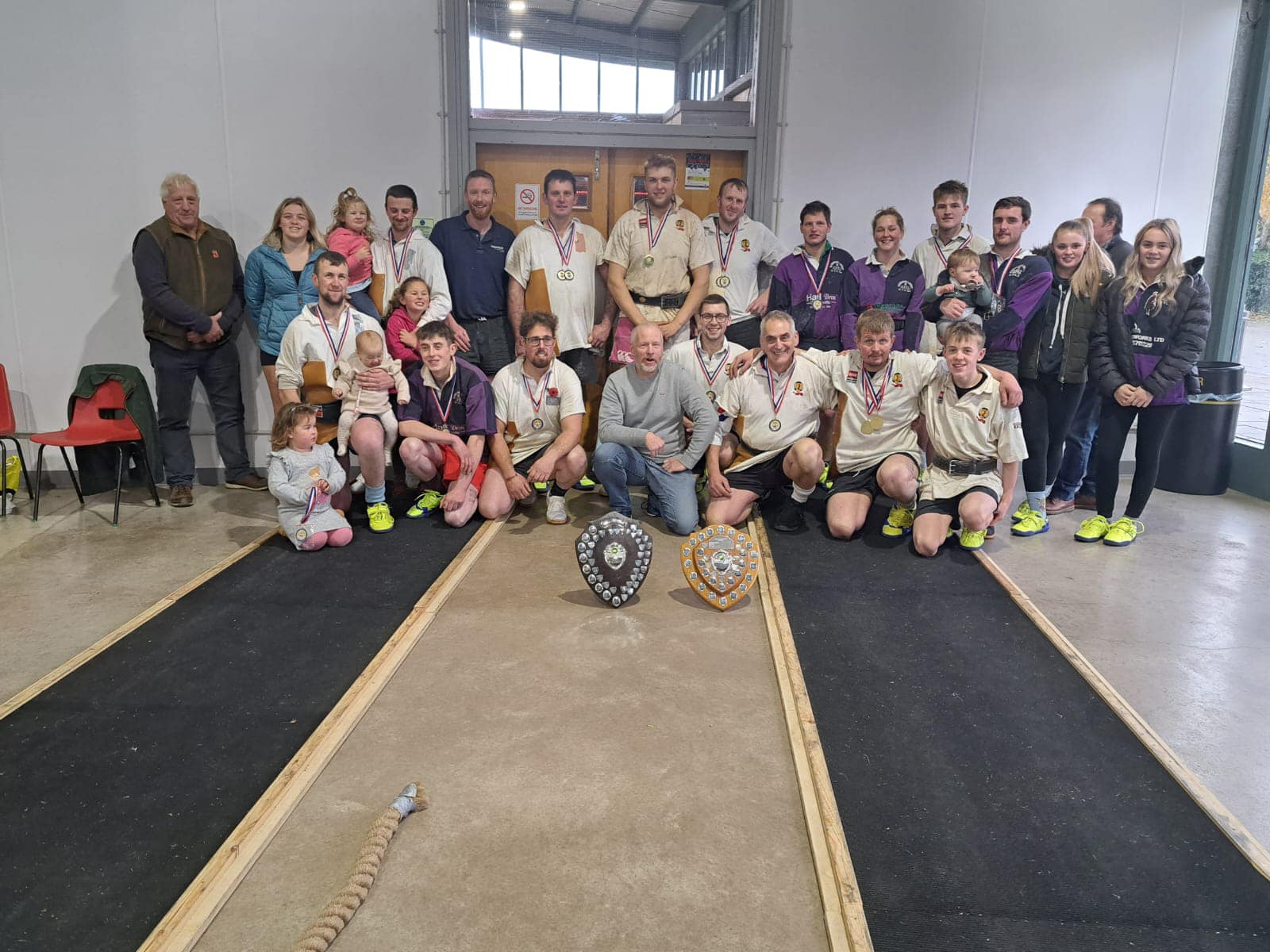 The AAA Indoor Tug of War Championships took place over the weekend in Bakewell with Uppertown, Kilroe, Sheen, Bosley (A and B) and Upper Eden taking part.
Photo: Sheen AAA Squad - Catchweight and 640 winners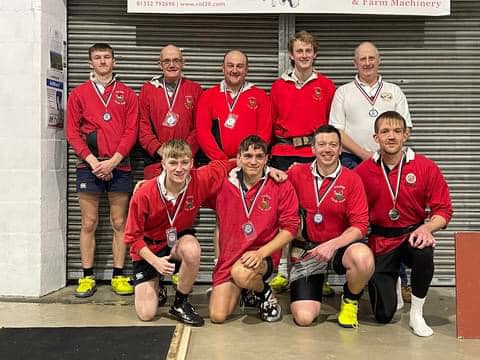 In the closed AAA weights, Upprtwon, Sheen, Kilroe and Bosley took part. The catchweight was on first with Bosley, Sheen and Kilroe competing for the medals. Sheen won all of their group rounds to progress to the final, with Kilroe defeating Bosley by 2 ends to 0 to join them in the final. The final saw Sheen take a comfortable 2 ends to 0 win to retain the AAA catchweight title that they won in 2022.
Photo: Kilroe - AAA Catchweight Silver Medallists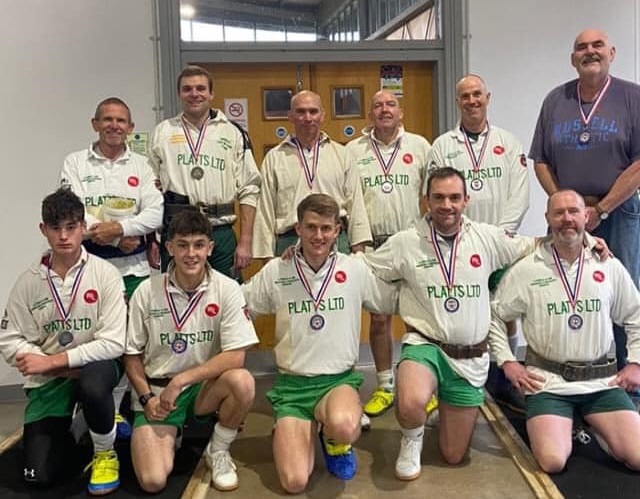 The 640kg was up next with Sheen, Kilroe, Bosley and Uppertown taking part. Sheen defeated Bosley first on by 2 ends to 0, with Kilroe and Uppertown having two closely fought ends which Uppertown won. Bosley then defeated Kilroe and Sheen defeated Uppertown in the next round. In the final round of matches, Sheen defeated Kilroe and Uppertown and Bosley finished 1-1. The final was between Bosley and Sheen, and after two tight ends it was Sheen who were victorious with a 2 ends to 0 win to take AAA gold.
Photo: Bosley - AAA 640kg Silver Medallists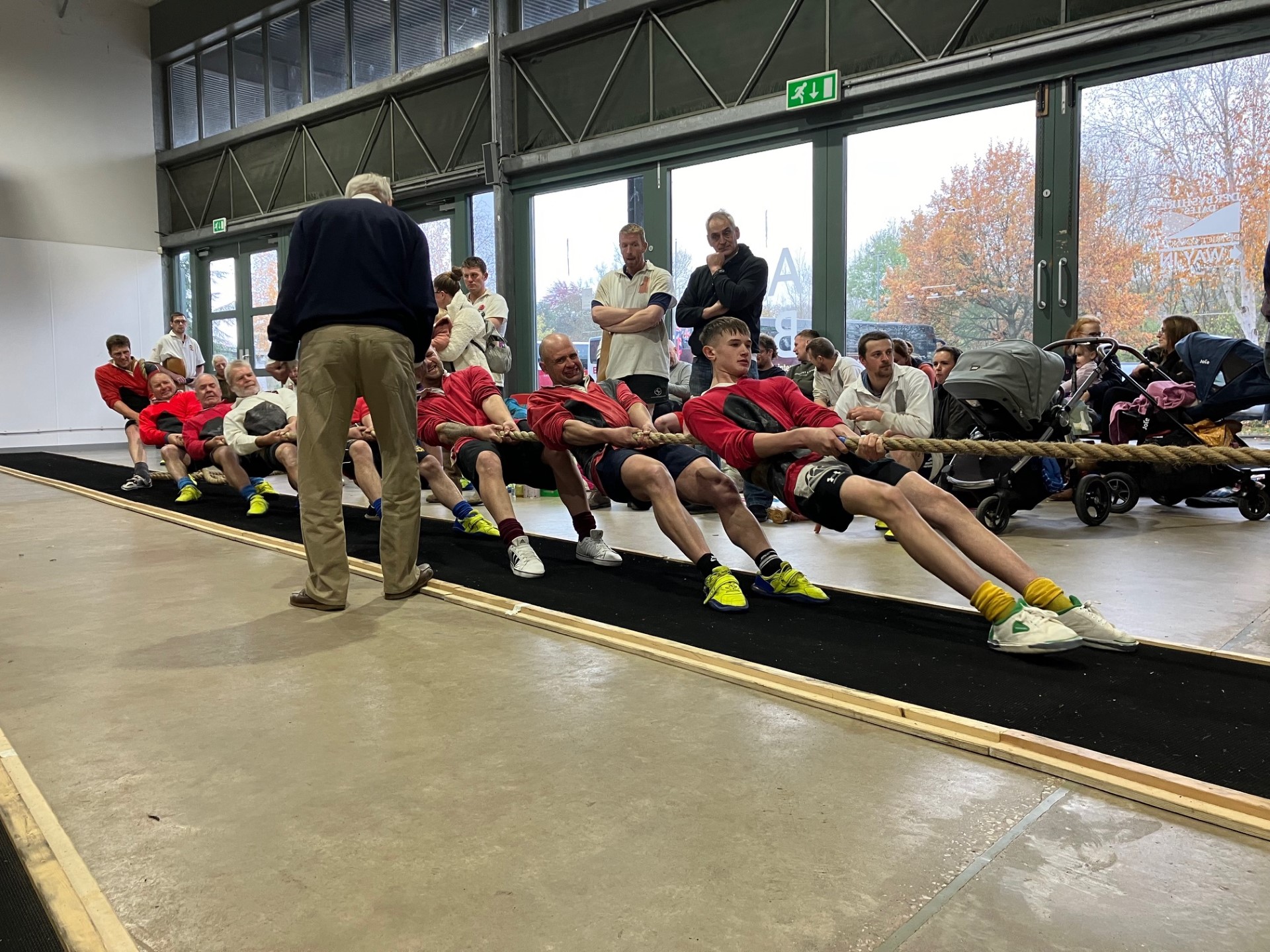 On completion of the AAA weights, medals were presented to the gold and silver medallists in each weight class.
Photo: Uppertown 600kg Team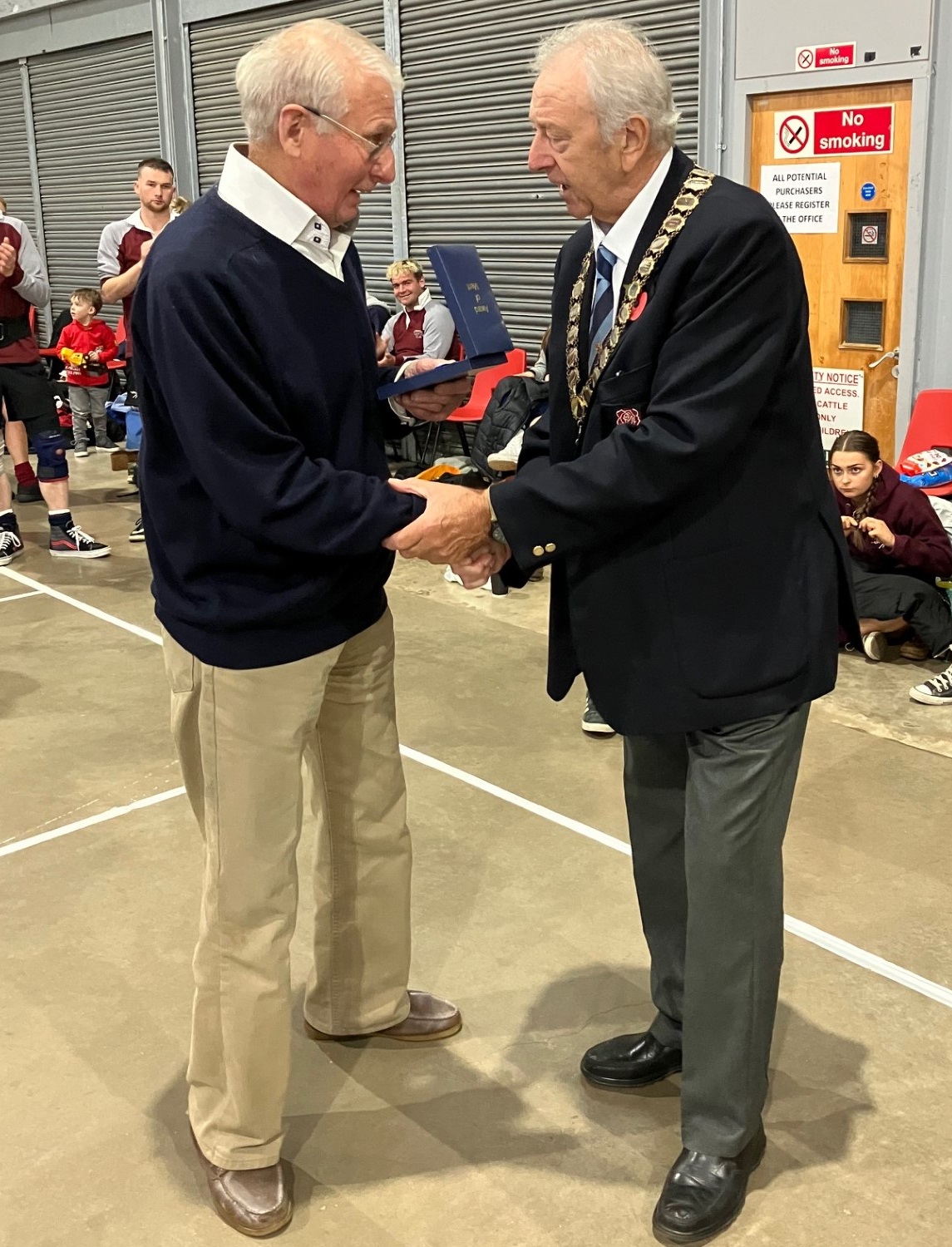 During the presentation, Mr Clem Sorrell, Uppertown coach, was presented with his Award of Merit. The Award of Merit is usually presented at the TOWA AGM, however Clem was unable to attend this year, so his award was presented at the AAA Championships. Well done Clem!
Clem was certainly very emotional upon receipt of his award, thanked everyone for their support and said that tug of war people are the best people in the world.
You can read about why Clem was nominated for the award by clicking here - http://www.tugofwar.co.uk/2023-news-pages/2023-towa-awards
Photo: Clem Sorrell (left) receiving his Award of Merit from TOWA President Mike Callaghan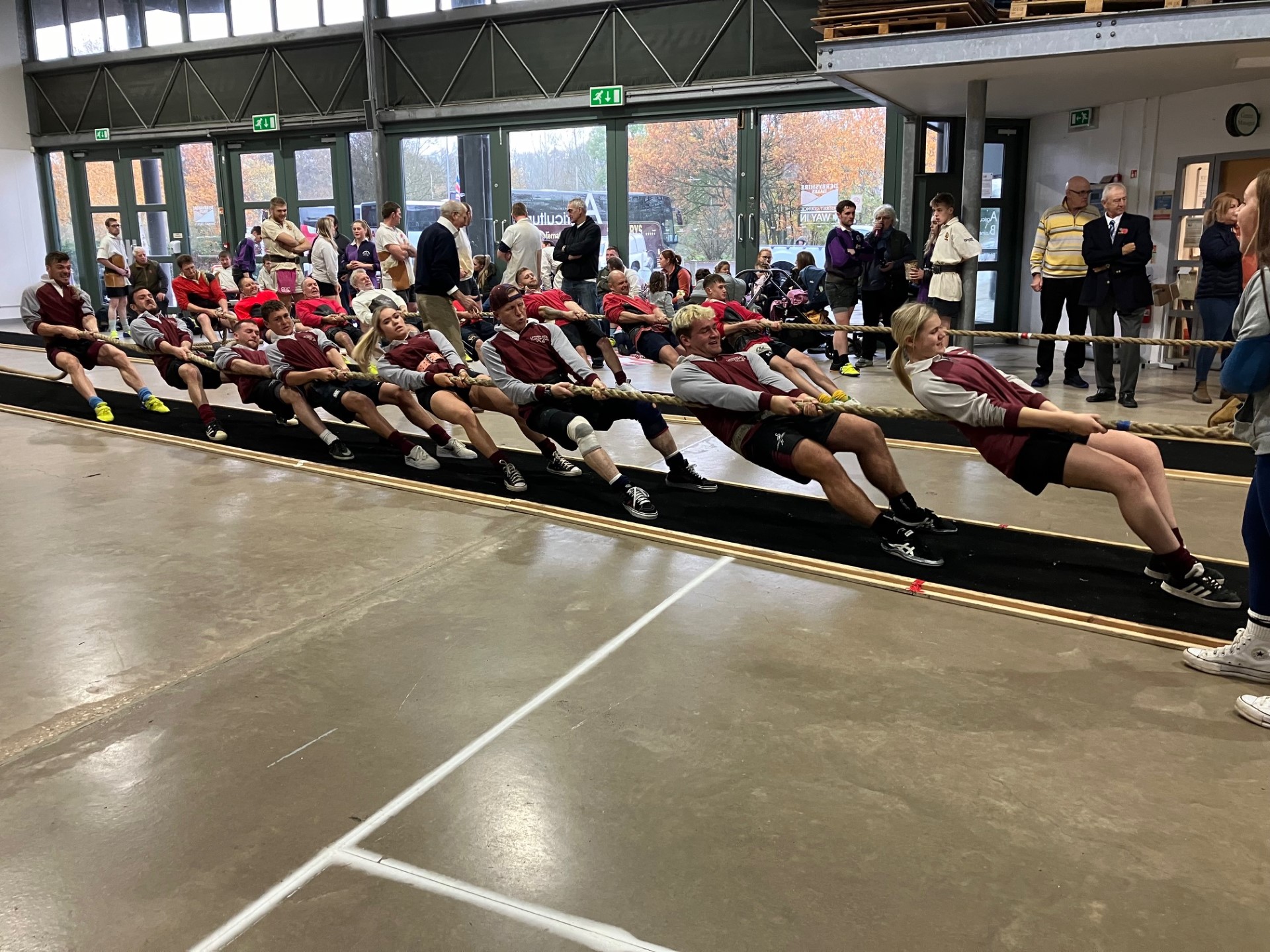 The open weights were contested at 600, 680, 620 and the mixed 580. The 600 was a straight group of 6 teams which was won by Bosley A, with Sheen finishing as runners up. The 680 competition was won by Sheen, with Uppertown finishing as runners up. The 620 was another busy competition which ended up being split into two groups. Bosley A were the winners of group 1, and there was some great competition in group 2. Uppertown finished as group 2 winners, but there was a great battle between Bosley B and Upper Eden which went 1-1 with Upper Eden winning a closely fought and very exciting second end.
Photo: Upper Eden 600kg team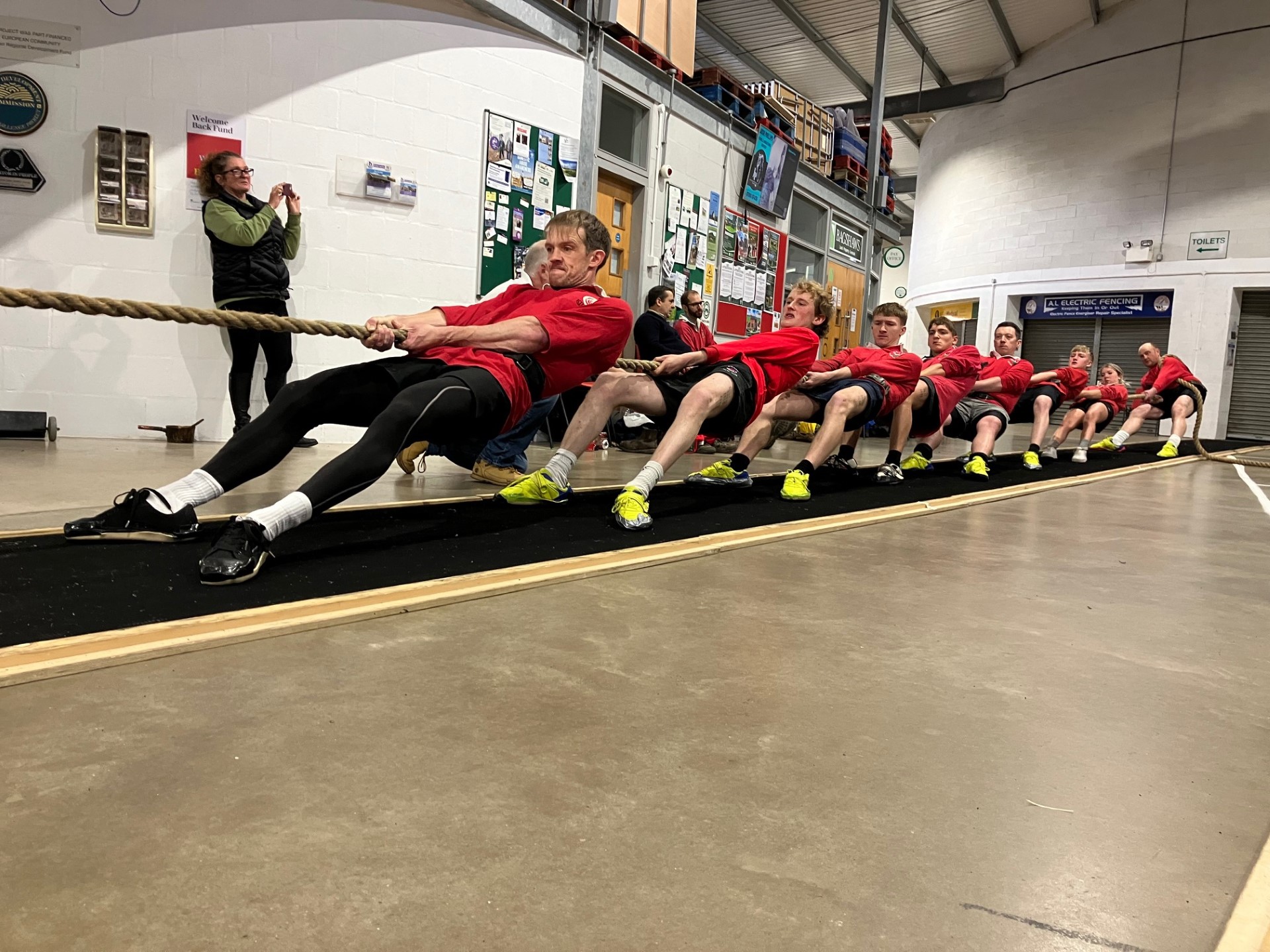 The event concluded with the mixed 580 with Sheen, Bosley and Upper Eden taking part. Sheen finished as the eventual winners, with Bosley finishing as the runners up.
Photo: Kilroe 600kg Team